Puerto Vallarta, Mexico - Taste Restaurant@Casa Cupula is pleased to announce that Chef Oscar Rito has signed on as the Restaurant's new Executive Chef. This award winning Chef brings his extensive training and experience in Mexico and Europe to Casa Cupula's new restaurant.
He plans to complement Taste's current menu of four regional cuisines (US, Mexican, Asian and South American) each available in "Taste" portions, with Spanish dishes. New gourmet dessert flights will bring new levels of taste sensations to exceed diner's expectations.
"The basis of many schools of cooking is from Spain, before Nouvelle cuisine, and my teaching is from masters of Spanish cooking," said Chef Rito. "Taste will express every sense of the palate with these fundamentals, as I create combinations that will reach the peak of pleasure for our clients with every bite." Rito will be offering new Spanish dishes for the next several weeks to determine new favorites for the menu.
In Europe, Rito served in several Michelin 3 Star restaurants including what is considered by many as the world's best restaurant "El Bulli" under Chef Ferran Adria in Catalonia Spain, as well as in Amsterdam, and San Sebastian Spain. He graduated from the Culinary Institute of Mexico in Puebla in 2001, where he won several awards in international competition.
Before coming to Puerto Vallarta, Chef Rito was Executive Sous Chef at the Fiesta Americana Grand in Los Cabos, and at NH Hotels in Puebla and Mexico City. He is Chief Instructor at the Instituto de Gastronomia FrancoMexicana, and founded TheCulinaryProjects.com doing catering and events in Puerto Vallarta. His new residence at Taste is a great fit: international boutique tastes in an international luxury boutique hotel.
"As one of Puerto Vallarta's greatest boutique hotels, Casa Cupula has inspired my imagination to try new textures and colors" reported Rito. "Like Casa Cupula, nothing conventional or boring, and a great challenge in my career to explore in the palate of each guest, with respect for every taste."
One of Chef Oscar Rito's greatest pleasures is in the creation of desserts. He describes his as "creative but with rules for execution. Sweet, but with respect for the flavors. Dessert is a key part of a great meal." Instead of one large dessert, Rito plans to offer several flights with different tastes in each. To celebrate, Taste will offer dessert with each full meal purchase for only $1 peso until Saturday, April 16, 2011.
To give Taste's diners a chance to try out Rito's new creations, the restaurant is offering a new "taste of Taste": four Taste (half) portions of each dish for only $249 pesos, through April 16.
Taste is open for dinner from 6-11 pm Monday to Saturday. A gourmet breakfast and lunch menu are available from 9 am-5 pm under the continuing direction of Executive Chef Jose Luis Ponce. And, for the first time, Casa Cupula's legendary Sunday Mimosa Brunch is open to the public from 10 am to 2 pm. Enjoy a mellow brunch inside, or work on your tan poolside and stay for an afternoon pool party from 2-6 pm.
---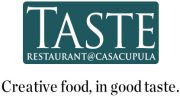 Open Monday-Saturday from 9 am to 11 pm and on Sundays from 10 am to 2 pm, Taste at Casa Cupula is located at Callejon de la Igualdad #129 on the southern shores of Puerto Vallarta, Mexico. For more information, visit CasaCupula.com. For reservations, click HERE, call (322) 223-2484 ext. 151 or email taste(at)casacupula.com.

Click HERE to learn more about Taste.