Puerto Vallarta, Mexico - During Restaurant Week 2011, be sure to stop by Kaiser Maximilian and help them celebrate 16 years of bistro-style dining in Old Town Puerto Vallarta.
Owner Andreas Rupprechter says, "If you haven't tried Kaiser Maximilian now is probably the best time to do it, to try our great European cuisine and the great creations of Carlos our chef and I'm sure you will enjoy it."
Indulge your palate during Restaurant Week and a bit beyond because the three course dinner for $299 pesos lasts from May 16th until June 4th. (Kaiser Maximilian is closed on Sundays.) In conjunction with the restaurant's anniversary, there will be even more to choose from on the special menu.
The event's menu includes nine appetizer choices, Savory Spinach Strudel with mixed greens and cherry tomatoes tossed in a vinaigrette, Ravioli, three soups and various salads.
Main course options include a tender Red Snapper Fillet over a bed of risotto flavored with smoked chiles and served with vegetables, Roasted Leg of Veal, Beef Tenderloin, Wienerschnitzel, and five other entrees.
Known for their desserts, the tough decision will be between seven irresistible temptations, like a warm Chocolate Bourbon Tart with pecans and topped with vanilla ice cream or a Fried Crepe with peach cream and flambé cherries, just to tease you with a few.
No other participating restaurant is offering this extensive array of options. It's a superior blend of old and new world cuisine, Austrian style. Find it all at Kaiser Maximilian.
Kaiser Maximilian Restaurant Week Menu
$299 pesos with your choice of one dish from each course:
APPETIZERS
• Tossed Garden Lettuce with fresh herbs and roasted pumpkin seeds
• Spinach Strudel with mixed greens and tomatoes
• Avocado and Tomatoes with organic greens and country cheese totopos
• Caesar Salad with crispy potato croutons
• Marinated Beets and Carrots, mixed berry balsamic, fine greens and goat cheese
• Raviolis with fennel filling, prosciutto, wild mushrooms and tarragon sauce
• Red Cabbage Cream Soup with roasted duck crust, potato dumpling
• Onion Soup with white wine, toast and gratinated cheese
• Garlic and herb flavored Bread Soup
MAIN COURSES
• Red Snapper fillet with risotto, cauliflower and smoked chilies
• Mahi Mahi with horseradish crust, sautéed garlic spinach, asparagus and potato – leek soup
• Sautéed Shrimp, Grilled Fish Filet and Chicken, rice stuffed sweet pepper, smoked chipotle sauce
• Beef Tenderloin, creamy Raclette cheese, brusells sprouts, onions and mushrooms
• Breast of Chicken with rosemary on mashed potatoes, mustard-seed sauce and garlic roasted vegetables
• Roasted Leg of Veal on glazed vegetables, potato noodles and a light cream sauce with mushrooms
• Wienerschnitzel, breaded pork loin with potatoes and austrian salad
• Zwiebelrostbraten, flat pounded beef loin covered with austrian onion rings and sautéed potatoes
• Rahmschnitzel, sautéed pork loin escalopes with homemade noodles and a cream mushroom sauce
DESSERTS
• Fried Crepe with Peach Cream and flamed cherries
• Warm Chocolate Gooey Cake with mint ice cream
• Warm Chocolate Bourbon Tart with vanilla ice cream
• Vanilla Ice Cream covered with Hot Crepe and chocolate sauce
• Sacher Chocolate Cake and Apple Pastry
• Crème Brulée
• Copa Maximilian, vanilla ice cream, bananas and Kahlúa
Restaurant Week 2011 runs from May 15-31 at some of the most recognized restaurants in Puerto Vallarta. Don't miss the chance to dine at your favorite Puerto Vallarta restaurant - and save a bundle! Click HERE for a sneak peek at the menus other participating restaurants are serving.

Open Monday-Saturday from 8 am to 11 pm for breakfast, lunch and dinner, Kaiser Maximilian Restaurant & Cafe is located at Olas Altas #38B in the Zona Romántica of Puerto Vallarta. For reservations call (322) 223-0760 or visit KaiserMaximilian.com.


Click HERE to read more about Kaiser Maximilian.
---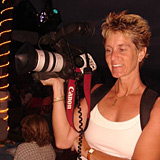 After having spent 10 years in the world of US broadcast news, Laura Gelezunas decided to unleash her skills on Puerto Vallarta by opening Video Diva Productions, a full-service, professional digital video company. Whether you're interested in a sales video, WEBmercial, music video, feature story, documentary, or corporate event video coverage, Laura has the experience, equipment and talent to coordinate a professional production. For more information, click HERE or visit her website at VideoDivaProductions.com.