On Tuesday, April 5, 2011 from 5-7 pm, No Way José is serving up the wine event of the season!
By popular demand, join sommelier Griselda Marquez L. Soto from the Mexican Boutique winery L.A. Cetto sampling their wines from their winery located in Valle de Guadalupe in Baja California.
You'll also enjoy taste portions of No Way José! favorites paired by Griselda for this special event, including...
Food and Wine Pairings:
Royal Mexican Calamari: Sautéed Calamari served on a bed of fresh greens with slices of poblano chile, paired with L.A. Cetto Chardonnay.
Lobster Tail a la Piola: Succulent Lobster, Mussels and Calamari bathed in a creamy Chipotle Shrimp Bisque, paired with L.A. Cetto Petite Syrah.
A Taste of Tuito: Juicy Beef Medallions in a Raicilla and chile mulato sauce, paired with Don Luis Concordia Cabernet-Shiraz.
Celaya Crepes: Cajeta Crepes with a scoop of vanilla ice cream, paired with L.A. Cetto Moscatel & Palomino.
Sommelier Griselda Marquez L. Soto is on the board of The Mexican Association of Sommeliers and is on the tasting panel for the Wine Guide Epicur.
To RSVP, email reservations(at)nowayjosemx.com or call (322) 223-2853. Do not miss this tasting! No Way José! highlights the most popular wines from L.A. Cetto, the premier winery in Mexico. Cost is $299 Pesos per person. (Special discounts do not apply.)
---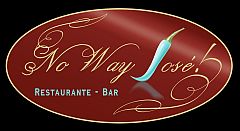 Named the "Best New Restaurant" and runner-up for "Best Moderate Restaurant" in Vallarta Lifestyles' 2010 Readers Choice Awards, No Way José! is located on the south side of downtown at 5 de Febrero #260, just over the Vallarta street bridge on your left. Open Tuesday - Sunday, 4-11:30 pm. Seating is limited so make your reservations today by calling (322) 223-2853 or online at NoWayJoseMx.com.

Click HERE to learn more about No Way José!