Puerto Vallarta, Mexico - Taste Restaurant@Casa Cupula was named Best New Restaurant in Puerto Vallarta for 2011, by the readers of Vallarta Lifestyles Magazine, and its website VirtualVallarta.com. Vallarta Lifestyles is the premiere destination magazine for the Banderas Bay region and each year its readers vote for their favorites in the coveted "Reader's Choice" awards.
The formal presentation of the awards will be made in a special event to be held at Taste on Thursday November 3, at 7 pm. All award winners are welcome to attend and a limited number of tickets are available to attend for $130 pesos (including champagne, canapés and a Taste - for information email taste(at)casacupula.com.) On this evening Taste will be closed to the general public from 7-9 pm.
This year, Executive Chef Oscar Rito will complement Taste's menu featuring four regional cuisines with a monthly selections "De Autor." These dishes will combine elements from the four featured cuisines: Mexican, US, South American and Asian.
Taste's concept has been enthusiastically received by Puerto Vallarta's discerning diners: almost every menu item is available in a Taste portion (half plate.) Diners can try dishes from several regions in one meal, taking a "gourmet trip around the world." This season, Taste will offer an exciting special of any 3 tastes for only $249 pesos.
Rito has fast become one of Vallarta's most celebrated new chefs. In Europe, Rito served in several Michelin 3 Star restaurants including what was considered by many as the world's best restaurant "El Bulli" under Chef Ferran Adria in Catalonia Spain, as well as in Amsterdam, and San Sebastian Spain. He graduated from the Culinary Institute of Mexico in Puebla in 2001, where he won several awards in international competition.
Before coming to Puerto Vallarta, Chef Rito was Executive Sous Chef at the Fiesta Americana Grand in Los Cabos, and at NH Hotels in Puebla and Mexico City. He is Chief Instructor at the Instituto de Gastronomia FrancoMexicana, and founded TheCulinaryProjects.com doing catering and events in Puerto Vallarta. His new residence at Taste is a great fit: international boutique tastes in an international luxury boutique hotel.
"As one of Puerto Vallarta's finest boutique hotels, Casa Cupula has inspired my imagination to try new textures and colors," reported Rito. "Like Casa Cupula, nothing in our menu is conventional or boring. It's a great challenge in my career to please the palate of each guest, with respect for every taste."
Taste will re-open for its second season on October 3 for dinner from 6 pm-11 pm Monday to Saturday. A gourmet breakfast and lunch menu are available from 9 am-5 pm under the continuing direction of Executive Chef Jose Luis Ponce. Casa Cupula's legendary Sunday Mimosa brunch is open to the public from 10 am to 2 pm.
Hours: Monday-Saturday Breakfast 9 am-noon
Lunch 12-5, Dinner 6-11 pm
Sunday brunch 10 am-2 pm, Sunday Pool Party 2-6 pm
Visit Taste on the web at casacupula.com/taste for more information and online reservations.
---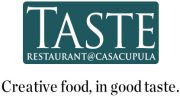 Open Monday-Saturday from 9 am to 11 pm and on Sundays from 10 am to 2 pm, Taste at Casa Cupula is located at Callejon de la Igualdad #129 on the southern shores of Puerto Vallarta, Mexico. For more information, visit CasaCupula.com. For reservations, click HERE, call (322) 223-2484 ext. 151 or email taste(at)casacupula.com.