Puerto Vallarta, Mexico – No Way José!, recently named Vallarta's "Best Overall Restaurant," and "The Best Moderate Restaurant" kicks off their third season with a Day of the Dead party!
On Wednesday, November 2, from 7-11:30 pm, come celebrate Day of the Dead and the start of our new season and enjoy a special menu featuring traditional Mexican tamalés, molé & pozole.
You'll also want to try the now famous NWJ! Tequila and Raicilla Bar from 8-11:00 pm for only $150 pesos per person. Come early and stay late to enjoy live entertainment and other surprises (Rumor has it there may be a birthday cake involved.) Their full bar and menu will also be available with all of your NWJ! favorites.
Mexican families celebrate Day of the Dead as an event to remember loved ones whose spirits visit the earth once a year. Although some may view the typical dancing skeletons and celebration of death as macabre, we assure you it is not.
The Day of the Dead – El Dia de Los Muertos – marks the time for the dead to return home and visit loved ones, feast on their favorite foods and listen to their favorite music. Family members honor their deceased in their homes with offerings which include photographs, bread, favorite foods, flowers, toys and other symbolic offerings.
Tu Casa en Vallarta will of course have a Day of the Dead altar. Julie, José Alfredo and the entire No Way José! team invite you to bring a memento that represents someone's memory you would like to honor to add to the altar. Your Day of the Dead altar awaits your offering!
Don't wait to make your reservation. NWJ! always wants to take good care of their family of friends so call (322) 223-2853 or email reservations(at)nowayjosemx.com to make sure all requests can be accommodated for this special evening.
Join us for a memorable "Best Of Vallarta" party that combines the delicious food of Mexico with the comfort of your Mexican Family in Vallarta.
---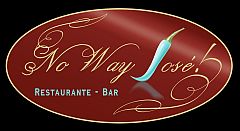 Named the "Best Overall Restaurant," "The Best Moderate Restaurant" and runners-up for "Best Service" in Vallarta Lifestyles' 2011 Readers Choice Awards, No Way José! is located on the south side of downtown at 5 de Febrero #260, just over the Vallarta street bridge on your left. Open daily in the winter season from 4-11:30 pm. Reservations are available by calling (322) 223-2853 or by emailing reservations(at)nowayjosemx.com. For more information, visit NoWayJoseMx.com.

Click HERE to learn more about No Way José!