Puerto Vallarta, Mexico - The history of the sandwich is an interesting one. Bread has been eaten with any meat or vegetable since Neolithic times. For example, the ancient Jewish sage, Hillel the Elder, is said to have placed meat from the Paschal lamb and bitter herbs between two pieces of matzah (or flat, unleavened bread) during Passover.
The first written usage of the English word "sandwich" appeared in Edward Gibbon's journal, dated 1762, where he referred to "bits of cold meat" as a "Sandwich." It was named after John Montagu [1718-1792], Fourth Earl of Sandwich, an 18th-century English aristocrat, although he was neither the inventor nor sustainer of the concoction.
It is said that Lord Sandwich was fond of this form of food because it allowed him to continue playing cards, particularly cribbage, while eating without getting his cards greasy from eating meat with his bare hands. According to historical accounts, he ordered his valet to bring him meat tucked between two pieces of bread, others began to order "the same as Sandwich!"
In the late 1800's in Indochina, later to become Vietnam, French colonization produced a gourmet sandwich only the rich were able to enjoy since all the butter, paté and ham were imported at that time. After the French departure in 1954, the Vietnamese learned the baking techniques, made smaller baguettes and incorporated Southeast Asian spices, herbs and vegetables. The result was Bánh mì.
Today, one can enjoy this unusually delicious sandwich right here in Puerto Vallarta, at Mikey's Fine Foods and Deli.
The Anatomy of a Bánh mi
For this sandwich, one starts with the proper bread: a French baguette or Asian roll. A crisp and crunchy crust is needed for authenticity. The inside must not be moist and sticky. The texture of the homemade paté here is crunchy yet smooth, for spreading on the bread.
A choice of sliced meats is widespread. Here, marinated (black pepper, soy sauce, brown sugar and garlic) pork tenderloin grilled and sliced is used as a layer on the roll which had been spread with mayonnaise. Customary toppings include thinly sliced cucumber, red onion, pickled thinly sliced daikon radish and carrot and fresh cilantro sprigs.
The finished product boosts tastes from salty to sweet to spicy, with crispness of the vegetables and the roll crust. All ingredients are placed from the edge of the roll heading toward the center, making what is Mikey's motto: "Every bite is created equal."
Mikey's Deli sports one of the best selections of cured meats, and makes delicious sandwiches incorporating any of the following:
• Salami Sopressata: from third generation Italians, coarser ground meat and pressed flat
• Chorizo Pamplona: Basque-style smoky with paprika
• Salamanca: tasty with paprika
• Cured pork loin (loma de cerdo): Embuchado similar to Coppa, dry-cured
• Jamón Serrano: dry-cured mountain ham
• Ibérico (pata negra): special meat from acorn-fed black hoofed pigs
But Mikey's is much more than just sandwiches... offering fully prepared foods, meals and premium meats cut to order. You'll find homemade sausages and bacon with a wonderful selection of breads and gourmet cheeses. Plus everything that you would expect from a fine deli: a wide variety of salads, sauces and deli meats, including homemade pastrami, roast beef and turkey. Gourmet meals without the headache!
Rely on Mikey's to deliciously answer the question, "what can I bring?" Whether a romantic meal for two or a festive party for 200, Mikey's offers unique and tasty products to create easy-smeasy meals. The quality and selection make this a premier destination for home use and entertaining family and friends.
So remember, whether you want to make a great dinner for family or friends but don't have the time, simply can't be bothered to put in the hours of prep, or you just need a quick lunch and want a really great sandwich, think of Mikey's.
Buen Provecho!

Open Monday through Saturday 9 am to 6 pm, Los Mercados is located just a half-block west of Rizo's at Aquiles Serdan #265. For a complete list of new products, special events and happenings at Los Mercados, visit LosMercadosPV.com.
To learn more about all of the wonderful shops at Los Mercados, click HERE.
---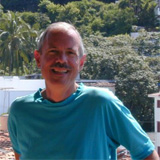 After 20 years in the San Francisco restaurant business, Gary R. Beck turned his attentions to cooking, dining out, creating recipes and exploring Puerto Vallarta's rich array of eateries. Famous for his restaurant guide, available online at CafePress.com or Lulu.com, Gary also writes restaurant reviews for Puerto Vallarta newspapers, Bay Area magazines, and feature columns for BanderasNews.com. Contact Gary at garyrbeck1(at)yahoo.com.
Click HERE for more articles by Gary R. Beck.