Bucerías, Mexico - Enjoy the holidays at Mark's this year. This award winning restaurant, well known for superb Mediterranean food and unmatched ambiance, is pulling out all the stops to make your Christmas Eve and New Year's Eve celebrations unforgettable.
On December 24th, we are preparing a four-course Christmas Eve candlelight dinner and featuring live Harp and Guitar music by the Veracruz Trio. The menu choices include:
First Course
• Tomato Basil Bruschetta with Arugula
Second Course Choices
• Spiced Pumpkin & Fresh Ricotta Cheese Raviolis Frangelico Butter & Hazelnuts
• Christmas Lobster Bisque with Lobster Flan & Caviar Garnish
• Steamed Baja Mussels with house made Fennel Sausage, Basil and Tomato
• N.Z. Organic Venison Carpaccio Truffle oil and Duck pate, Pomegranate Glaze
Main Course Choices
• Roasted Red Snapper Fillet & San Blas Prawns, Beet Juice Risotto, Roasted Lobster Sauce
• Herb Butter Roasted Turkey with Sage Sausage Mushroom & Prosciutto dressing, Pancetta Gravy
• Filet Mignon with Blue Cheese Raviolis, Pan Roasted Chanterelle Mushrooms, Red Wine Demi-glace
• Cider Brined Organic Pork Prime Rib Chop, Squash Gnocchi, Roasted Apples, Cranberry Port Sauce
Dessert Choices
• Cognac infused English Trifle
• Vanilla Bean Crème Brülée Port infused Figs
• Pavlova with Belgium Chocolate Mousse, fresh Strawberries
• Flaky Pastry Napoleons Mascarpone cheese and caramelized Apples and Raisins
$595 pesos ($45 USD) per person, children half price. Reserve now by calling (329) 298-0303.
Mark's Bar & Grill New Year's Eve 2011
This spectacular New Year's Eve event is one you don't want to miss. The evening begins with an early seating from 5-8:30 with our four-course menu for $750 pesos or $60 USD.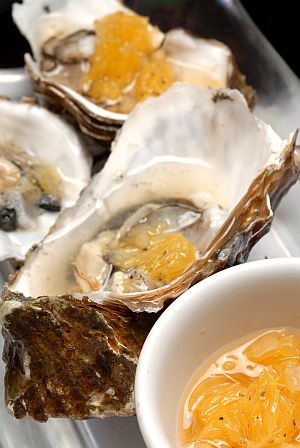 Starting at 8:45 pm and onwards, the late seating will go well into the New Year as we celebrate the arrival of 2012 with fabulous food, a live band, dancing and party favors. Your evening of food, wine and entertainment will feature incredible culinary offerings. Imagine the freshest seafood and organic meats prepared impeccably, including:
Starters
• Spicy Lobster Tuna Rolls, Avocado & Sesame Ginger Vinaigrette
• Oysters Rockefeller
• Natural Venison Carpaccio with Porcini Truffle Oil, Ostrich Pate Brúlée
• Shrimp Stuffed Zucchini Blossoms Mediterranean Calamari Salad
Main Courses
• NZ Rack of Lamb, Cardamom infused Lamb Raviolis, Mint Tapenade, Merlot Sauce
• Gras fed fillet Mignon, Panko Crusted Oysters, Horseradish Potato Gratin
• Organic Veal Chop from the Rack, Creamed Spinach, pan Roasted Chanterelle Mushrooms
• Sea Bass stuffed with Shrimp, Vegetable Tempura, Saffron Fennel Risotto, Seafood Sauce
• Butter Poached Lobster with Ricotta cheese Gnocchi Parmesan Tule
Delicious dessert offerings, and of course champagne by the glass, wine and cocktails.
Mark's will set off the sparklers as the clock strikes midnight to wish you a wonderful 2012. Entertainment for the evening will feature our highly requested Trio from Vera Cruz, so come with your dancing shoes as they play the tunes into 2012!
$1115 pesos ($88 USD) per person
Space for this event is limited, so don't delay, call 01 (329) 298-0303, or send an email to MarksBarAndGrill(at)yahoo.com.mx to reserve your place TODAY!

Known for its delightful decor and excellent cuisine, Mark's Bar & Grill is located at Lazaro Cardenas #56 in Bucerias, Nayarit. Whether dining at the bar with great conversation or on the outdoor patio under the stars, the Mediterranean and Asian inspired food will exceed your expectations. For reservations, call (329) 298-0303. For more information visit MarksBucerias.com


Click HERE to read more about Mark's Bar & Grill.