Puerto Vallarta, Mexico – No Way José!, recently named Vallarta's "Best Overall Restaurant," and "The Best Moderate Restaurant," invites you to join them for a very festive holiday evening to help raise funds for the Los Mangos Library.
On Wednesday, December 21 from 5–7:30 pm, guests will be greeted by a complimentary welcome cocktail and can select from a special cocktail and appetizer menu featuring mango-themed items. A percentage of the proceeds from the special menu will go directly to Los Mangos.
Guests can also help decorate their special mango tree! Design your own ornament from their pre-printed mangos and add a variety of fun glitter, sprinkles and doo-dads to make the ornament your own creation. Ornaments will be available for purchase; 1 for $50 pesos or 3 for $100 pesos. 100% of proceeds from the ornament sales will go to Los Mangos.
As a special treat, the cast of the upcoming Boutique Theater production of "The Best Little Whorehouse in Texas" will be performing some holiday numbers and will lead a fun sing-a-long. No Way José!'s full bar and menu will also be available with all of your NWJ! favorites. Special discounts do not apply to special events.
One of the best cultural resources in Puerto Vallarta is the Biblioteca Los Mangos (Los Mangos Library), located on Francisco Villa Avenue not far from Costco. The library is open to the public and has a large selection of books in Spanish and in English. The library also offers an extensive list of courses including ballet, piano, and painting at very reasonable prices.
The best way to find out what is being offered is to visit the library. At the main entrance is a bulletin board with postings for all of the courses and activities. Also, many of the library's events, classes, and cultural activities are listed on the library's informational blog at biblioteca-los-mangos.blogspot.com. The library really offers something for everyone and is worth your support.
Join No Way José! for a memorable "Best Of Vallarta" holiday event that combines the delicious food of Mexico with the comfort of your Mexican Family in Vallarta.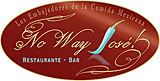 Named the "Best Overall Restaurant," "The Best Moderate Restaurant" and runners-up for "Best Service" in Vallarta Lifestyles' 2011 Readers Choice Awards, No Way José! is located on the south side of downtown at 5 de Febrero #260, just over the Vallarta street bridge on your left. Open 7 nights a week in the winter season from 4-11:30 pm, reservations are available by calling (322) 223-2853 or by emailing reservations(at)nowayjosemx.com. For more information, visit NoWayJoseMx.com.

Click HERE to learn more about No Way José!