Puerto Vallarta, Mexico - Sometimes we all need something other than just chips, guacamole, and margaritas. Archie's Wok is your haven for bold and innovative flavors to get you out of that Mexican food rut!
Since 1986, Archie's has been legendary in Banderas Bay for serving original cuisine influenced by the exotic flavors of Thailand, China, and the Philippines. Archie's helped lay the culinary foundation of Puerto Vallarta and continues to be one of the area's most beloved, longtime established restaurants.
It all began in 1976 when Archie was asked to become Hollywood director John Huston's private chef at his personal retreat on Banderas Bay's south shore. Now, Archie's family will be sharing a glimpse into their personal stories about the early years in a series of ads found in various newspapers and websites throughout Banderas Bay.
Guests will also discover a treasure trove of photos displayed throughout the restaurant featuring memorable moments of Archie's time with John and of the early years of this historic establishment.
Through the ads and photos, Archie's family hopes that guests will discover there's more to their history than just great flavors, although they have been named "Best Asian" in Puerto Vallarta for the past 6 years running!
Archie's Wok is open Monday through Saturday from 2 pm till 11 pm. The ever-popular d'Rachael continues to perform classical and contemporary music on harp, flute, & vocals each Friday and Saturday evenings from 7:30 pm to 10:30 pm.
Located in Vallarta's South Side at Francisca Rodriguez 130. You know the street, the one that meets the new pier. You can call (322) 222-0411 for information, though no reservations are needed.
So when you finally say "no more tacos," head on over to Archie's Wok and discover a world of flavors. Ask about their "gluten free" options.
---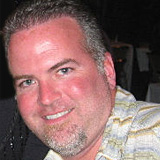 Born in Seattle, WA, Patrick Harrison has been living in PV since 2003. Drawing on his experience in entertainment, radio, retail and sports marketing in major US cities, Patrick opened his own business here in Vallarta, P. Gringo Marketing & PR, a successful Public Relations Firm that targets the English-speaking tourist and local communities. You can contact Patrick at patrick(at)pgringo.com
Click HERE for more articles by Patrick Harrison.