Mexico - It is nearly impossible to overstate the threat to the planet resulting from climate change and the drastic steps which must be taken to avert catastrophe. There is no doubt that the human influence on the climate is significant rather than minor and that the consequences of our influence are overwhelmingly negative rather than positive.
Earth Hour is a worldwide event considered to be the largest environmental awareness campaign ever orchestrated. It is organized by the World Wide Fund for Nature (WWF) and is held on the last Saturday of March annually.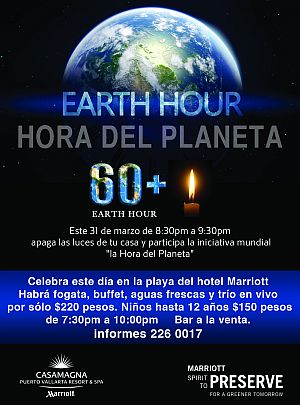 In Puerto Vallarta, Casa Magna Marriott will honor the occasion with a cocktail celebration on their beach with a bonfire, music, and delicious food.
A "highly visible" symbolic act, Earth Hour is intended to raise awareness about the need to take action on climate change by encouraging homes and businesses to turn off their non-essential lights for one hour.
The WWF and The Sydney Morning Herald conceived the idea for Earth Hour in 2007 and, at its' inception, 2.2 million residents of Sydney, Australia participated in the event.
In 2008 Earth Hour became a global movement, with more than 50 million people across 35 countries participating. Global landmarks such as the Golden Gate Bridge in San Francisco, Rome's Colosseum, and the Coca Cola billboard in Times Square, all stood in darkness, as symbols of hope for a cause that grows more urgent by the hour.
In March 2009, hundreds of millions of people took part in the third Earth Hour. Over 4000 cities in 88 countries officially switched-off to pledge their support for the planet, making Earth Hour 2009 the world's largest global climate change initiative.
Now, billions of people take part each year, with thousands of iconic buildings and landmarks from Asia Pacific to Europe and Africa to the Americas participating by standing in near darkness for the designated hour.
Organizers estimate that 1.8 billion people, in more than 5,251 cities and towns, in 147 countries and territories, will participate in the 2012 event.
Earth Hour 2012 will take place on Saturday, March 31, 2012 from 8:30 pm to 9:30 pm, at participant's local time.