Mexico City, Mexico - According to the Mexican Association of Automotive Distributors (AMDA), the organization that represents Mexico's automobile dealers, an estimated 700,000 used automobiles were brought into Mexico from the US during 2011.
AMDA also reported that in the past six years, 7 million used vehicles have entered Mexico. That is over 3,000 vehicles every day of the year for six straight years. These imposing numbers cause one to wonder about the history of importing used vehicles from the US and the impact this has on Mexico's economy. There is also the question as to whether or not NAFTA may address the import situation.
For many years Mexico, like most of the large Latin American countries, had a complete ban on importing used automobiles. There were, however, a few exceptions in Mexico.
One exception permitted an American used car to be imported if it was used to fulfill a business contract in Mexico. Also, those living within the border and free trade zones of Baja California, partial zones of Sonora, and the state of Baja California Sur were able to own imported used cars that were 4-15 years older than the then current model year.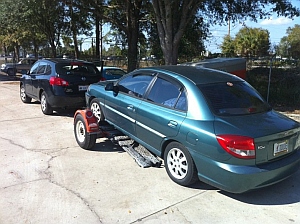 For every used vehicle sold by the National Association of Automobile Dealers, five enter the country from the US.
Although Mexico had a ban on the importation of cars for many years, the ban was regularly ignored. Imported cars in the free trade zone were frequently, although illegally, sold and brought into other parts of the country. Also bribes and other forms of collusion were a standard means of bringing used cars into the country without proper documentation or registration.
All illegal vehicles in Mexico are subject to confiscation when discovered. Since there are always so many illegal cars in Mexico, Mexican politicians have had a long history of 'regularizing' (granting amnesty to) smuggled used automobiles before elections.
This election year practice drew to a head in 1999 in advance of the election of Vicente Fox as president. Then Minister of Trade and Industrial Development, Herminio Blanco, is reported to have declared, "The position of the government is clear: We will not regularize illegal vehicles."
However, protests outside of the finance ministry grew, even as exemptions were introduced for pick-up trucks at least 10 years old.
The issue continued to grow throughout 2000 and became a debating point in the presidential campaign. While the elected Fox administration and the Mexican motor industry opposed regularization of smuggled used automobiles, they were defeated by the opposition dominated legislature when it passed a bill allowing such regularization.
Whether it was just a coincidence or not, on August 22, 2005, just 11 months before the 2006 presidential election in Mexico, President Vicente Fox issued an Automotive Decree. He said the decree was issued in order to make lower priced automobiles available to Mexico's citizens.
The decree opened Mexico's borders to 10 to 15 year old automobiles from the US and Canada, cut duties on used vehicles by 40%, and offered amnesty for an estimated one million illegally imported or unregistered vehicles already in Mexico.
The decree was to last until the end of 2008 when provisions in NAFTA were to address Mexico's importation of used automobiles.
In 2005 approximately 100 million cars in the US met the decree's criteria. It has been reported that in the twelve months following the decree more than 1.5 million used vehicles were imported from the United States into Mexico.
Complicating the picture were the 200,000 automobiles stolen in the US each year and exported. According to a study by Clarke and Brown in 2003, the majority of those vehicles end up in Mexico.
Cars, imported without proper documentation, are commonly referred to as "coches chocolate" or chocolate cars. An AMDA official said, "Owners don't pay taxes or registration fees, so many Mexicans prefer to buy a chocolate car." Gillermo Rosales, institutional relations director for AMDA said, "These guys buy them at junk auctions for $500-$600, spend a bit to tune them up and sell them here for as much as $1,500. The cars are usually in a very poor state, usually junked or semi-junked."
The AMDA unsuccessfully fought for a more restrictive law to, as quoted by The Detroit News, "stop the accelerated conversion of Mexico into the world's biggest automotive garbage dump." The term "chocolate car" comes from the line in the Tom Hanks movie, Forrest Gump… "Life is like a box of chocolate - you never know what you're gonna get."
Before the 2005 decree expired by its own terms, President Felipe Calderón issued an Automotive Decree in March of 2008.
The new decree addressed the fact that many of the imported vehicles were not manufactured in either the US or Canada by stating that at least 62.5% of the vehicle's components had to have been manufactured in a NAFTA country; a definitional criteria used in NAFTA. It also attempted to appease AMDA by stating an imported model had to be exactly 10 years old.
Three years later on July 1, 2011, Calderón enacted new guidelines to regulate the importation of used vehicles from the US. Under this new rule any car that was newer than eight years old and that had been assembled in the US or Canada was allowed to enter Mexico without paying duties. Vehicles that were eight or nine years old paid a 10% duty, plus a value-added tax. Cars 10 years old or older paid a 50% duty.
This decree had Mexico come into compliance with NAFTA's provisions on Mexico's importation of used cars. Under the provisions of NAFTA beginning in 2009, Mexico, on a staggered basis, had to permit used automobiles from the United States and Canada to enter without restrictions.
Beginning in 2009 Mexico could not adopt or maintain prohibitive or restrictive guidelines on imports from Canada or the United States for used vehicles that were at least 10 years old. Every two years thereafter the age of the used automobiles decreases by 2 years, so that by 2019 there are to be no restrictions on the importation of any used car from the US or Canada.
All the old cars brought into Mexico, legal or otherwise, have added to Mexico's pollution problems. For many years AMDA and non-governmental organizations have complained about this situation and asked for restrictions.
In November of last year Aduana (Mexico customs) added a new rule to tackle the pollution problem. As of November 20, 2011, in order for an automobile to be imported into Mexico the vehicle must have passed an emission test in one of the four US Border States no more than 6 months before entering Mexico.
Mexico has no significant formal market for the sale of used cars. The formal used automobile dealers in Mexico are reported to have sold around 155,000 used vehicles last year, a low figure compared to private transactions and imports.
"For every used vehicle sold by the 82,000 members of the National Association of Automobile Dealers, five used vehicles enter the country from the United States," says Monica Jaimes, president of the ANCA.
As with other specific industries in Mexico, NAFTA, which now sets the criteria for the importation of used automobiles from the US and Canada, will cause a hardship on both new and used automobile dealers. However, as Mexico's middle class grows, it is hoped that Mexico's automobile dealers will flourish. Only time will tell.