Mexico City, Mexico - Mexican billionaire Carlos Slim Helu and American television host Larry King will be introducing a new Internet television network called Ora.tv.
Helu is financing the project that will include an interview show with the former CNN television host and it could be running before October, according to the network and a spokesman for Mr. Helu.
Ora.tv will feature television shows that can be streamed to users through devices such as smartphones, computers, and televisions. It will reach the United States, Latin America, and other undisclosed locations.
Slim, who owns the largest wireless company in Latin America called América Móvil, last week was named the world's richest man for the third straight year, according to Forbes magazine's annual list of billionaires.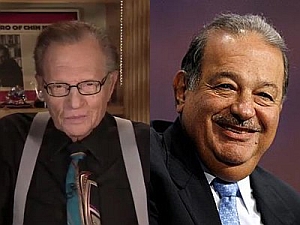 Carlos Slim Teams With Larry King on Ora.tv
The amount of his investment is unknown, but Helú is well known in the pay-television broadcasting realm as he is the main provider of pay-television in Latin America, where he offers cable and satellite services to around 13 million customers.
He is barred by government regulations from competing in Mexico's traditional television market but maintains a local online news site called "Uno Noticias." Slim is determined to use Ora.tv to get around the governmental road blocks.
King is a co-founder of the Ora.tv network, and plans to have a new show that is similar to his former program, CNN's Larry King Live, featured there. King left the show partially to pursue Ora.tv.
King stated that he missed conducting interviews and was feeling "restless," ergo the new show that will be on the contemporary network. King's wife will also be on the program.
The CEO of Ora.tv is Jon Housman, who was president of digital journalism initiatives for Rupert Murdoch's News Corporation. He said Ora.tv would use advertising as its financial support instead of subscriptions, and that "down the road there would probably be channels that want to broadcast it exclusively."
The free online news and entertainment channel will have mostly English-language content in its initial phase. It will have a New York headquarters and Los Angeles studios to produce on-demand content and "a wide range of programs that transcend traditional formats," according to a statement from Ora.TV.
Many tech companies are jumping into the TV business these days after recognizing Netflix's success, and that consumers are looking for alternatives to traditional cable.
For instance, Amazon offers movies and TV shows through its Amazon Prime membership, and Microsoft and Verizon have been looking to step into the TV realm as well. Apple recently announced that it plans to launch a TV service by the end of the year, and is currently in talks with content providers.
"The business model is sound, and the team brings the talent and industry understanding that will help Ora stand out in digital television, a category which is printed for exponential growth," said Helú.