Aguascalientes, Mexico - Japanese automaker Nissan has laid the first stone at a ceremony to celebrate the inauguration of its new $2 billion plant in Aguascalientes, Mexico, where it expects to increase production to more than 1 million units annually.
"The new complex underscores the objectives set forth by Nissan's global strategy, Nissan Power 88, including a target global market share of 8 percent," said Bill Krueger, Vice Chairman of Nissan Americas. "The increase of manufacturing capacity for an operation that has already proven its leadership will enable us to deliver more innovative vehicles for markets that are clamoring for them."
At present, Nissan Mexicana has a 25 percent share of the automotive market in Mexico, making it the leader in the sector.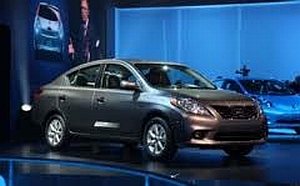 Nissan Mexicana produces the Versa at the Aguascalientes, Mexico assembly plant
The plant, Nissan's third manufacturing complex in the country, will allow the company to increase its production from 600,000 units annually in Mexico, to more than 1 million units annually, Krueger said.
The ceremony at which the first stone was laid was attended by numerous dignitaries, including Mexico's President Felipe Calderon and Aguascalientes Governor Carlos Lozano de la Torre. "This is a project of major importance that will boost our economy and allow the creation of more opportunities for progress and the well-being of the people of Aguascalientes, and for all Mexicans," Calderon said.
In keeping with Japanese tradition, Nissan Motors placed a time capsule next to the first stone. The capsule included photos of every single employee currently working with Nissan in Aguascalientes as a symbol of their role in the company and its operation's history.
"The magnitude of Nissan's commitment to this new automotive complex is without par," said Nissan Mexicana vice president of manufacturing Armando Avila. "With this new manufacturing complex, we will be able to increase our manufacturing capacity from over 600,000 units per year, to more than 800,000 units by the close of 2013, continuing our record setting production rates in Mexico. And this is only Phase 1. The challenge is enormous, but inspiring. We will achieve it because we are proficient in advanced production processes and can count on very skilled labor to deliver with top quality."
Nissan, which entered the Mexican market in 1959, is in the process of recruiting and training more than 3,000 employees for the first phase of the project.
According to a press release, Phase I of the complex will be completed in a record time of 20 months and it will be operational by the end of 2013. Nissan's expanded production will be supported by a network of suppliers based at the adjacent supplier park, as well as from other locations. Vehicles manufactured in Mexico by Nissan have 80 percent domestic content," the Japanese automaker said.
Nissan Mexicana has corporate, marketing, sales, manufacturing, distribution, and design facilities in Aguascalientes, Mexico City, Cuernavaca, and Toluca.
The company employs more than 11,600 people in Mexico.
Source: Auto World News