Puerto Vallarta, Mexico - Indian cuisine has been shaped by a nearly 5000 year history. The vastly different regions, the various groups and cultures that traded with each other, and contrasting religions all added their own flair to make up the cultural fabric of their food.
Aryans first migrated to India around 6000 BC and introduced dairy products because they were mainly nomadic herdsmen. Later Mughals, British, Turks and Portuguese influence also made inroads into Indian cuisine, resulting in its present diversity.
Staple foods of Indian cuisine include millet, rice, whole wheat flour and a variety of lentils. The most important or frequently used spices are chili peppers, black mustard seed, cardamom, cumin, turmeric, ginger, coriander and garlic. Many dishes are characterized by the use of the various spices, herbs and other vegetables grown in India. The cuisine is also influenced by the widespread practice of vegetarianism.
No need to pack your bags, just pack your pesos, and head on over to Daiquiri Dick's Restaurant in Puerto Vallarta, where you can experience the exotic taste of India during this week's Summer Sizzle. From July 18 to 23, you'll enjoy three irresistible courses and a complimentary beverage for only $299 pesos. Here's a look at the menu:
The Flavors of India - July 19 through 23rd
Served from 5:30-11:30 pm. Select one item from each category. A complimentary beverage is included for $299 pesos. Not subject to any other discounts.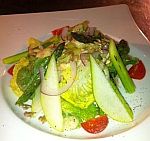 Appetizers
• Vegetarian Samosas with Potato, Sweet Peas and Cilantro with a Yogurt Sauce
• Pear and Asparagus Salad with a Honey Mustard Dressing
• Tandori Chicken Skewers with Tamarind Chutney
Entrιes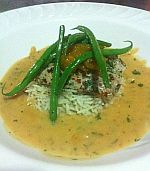 • Baked White Fish with a Coconut Chile Sauce, served over Rice with Mango Chutney
• Chicken Stew (Kerala) with New Potatoes, Carrots and Turmeric, served with Rice
• Grilled Pork Chops marinated in Curry, Yogurt, Paprika and Cardamom, served with Chard Sauteed with Ginger and Garlic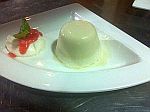 Desserts
• Apple Almond Cake
• Kulfi (Indian Ice Cream) with Cardamom
• Mango Sorbet
The differences in Indian food are as diverse as its people, which numbers over one billion. Let this week's Summer Sizzle menu take you down the path to losing yourself in the exotic flavors of irresistible India.
Daiquiri Dick's Summer Sizzle menu changes every Wednesday until August 31, 2012. Delicious destinations still to come on this culinary journey include select countries in Western Europe, where comfort food has gone creative, and the lively seasonings of Latin America will produce mouth-watering results.
Open daily from 9 am to 11 pm, Daiquiri Dick's offers elegant dining in a relaxed atmosphere for breakfast, lunch or dinner. (Closed on Tuesdays through October.) Visa, MasterCard and Banamex accepted. Reservations are recommended and can be made at DDPV.com.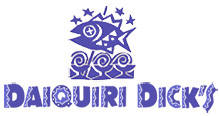 Daiquiri Dick's contemporary design exudes a quiet elegance that invites relaxation, and its tropical location at Olas Altas 314 on Los Muertos Beach offers the perfect atmosphere for enjoying spectacular views of Banderas Bay. For reservations call (322) 222-0566. For more information, visit DDPV.com.