Puerto Vallarta, Mexico - No Way José!, recently named Vallarta's "Best Moderate Restaurant" and "Best Service," is thrilled to be opening for their 4th season, but get ready - you won't want to miss a minute of their fun and fiesta-filled Halloween/Day of the Dead/Season Opening Parties!.
Join Hollywood stars and local celebrities on the black carpet on Wednesday, October 31st, as the cast of Rocky Horror invades Tu Casa en Vallarta! Come dressed in your Rocky Horror best while a panel of drag queen judges select the best costume. Enjoy dinner and cocktail specials and meet the cast of ACT II Entertainment's The Rocky Horror Show that premieres at the Palm.
Not going to a show? No problema! Come to the costume contest, enjoy a special Rocky Horror cocktail and savor one of your favorite meals in Tu Casa en Vallarta.
To benefit the Banderas Bay Women's Shelter, V.I.P.R. Public Relations Presents: Rocky Horror Cocktails at NWJ!, 7 pm, Black Carpet arrivals, 8 pm, Dinner Seating, 9 pm, Winner of Costume Contest Announced 9:15 pm, Raffle Winners Announced, 9:30 pm.
Then just a few nights later, join us on Friday, November 2nd for our 2nd Annual Day of the Dead/Season Opening Party!
This year, the night will benefit the Puerto Vallarta Bougainvillea Festival 2013. Who can think of springtime in Washington D.C. without thinking of the Cherry Blossom Festival? Join us as we celebrate the Day of the Dead in Vallarta and start the good work toward transforming Vallarta into 'THE' Bougainvillea city of the world.
Mexican families celebrate Day of the Dead as an event to remember loved ones whose spirits visit the earth once a year. Although some may view the typical dancing skeletons and celebration of death as macabre, we assure you it is not. The Day of the Dead - El Dia de Los Muertos - marks the time for the dead to return home and visit loved ones, feast on their favorite foods, and listen to their favorite music.
Family members honor their deceased in their homes with offerings which include photographs, bread, favorite foods, flowers, toys, and other symbolic offerings. Tu Casa en Vallarta will of course have a Day of the Dead altar. Julie, José Alfredo, and the entire No Way José! team invite you to bring a memento that represents someone's memory you would like to honor to add to the altar. Your Day of the Dead altar awaits your offering!
Our Season Opening parties are filled with everything you would expect from our lively fiestas; live music, dinner and drink specials, and introducing the new NWJ! Terrace mascot, El Burro José.
Join us for our memorable "Best Of Vallarta" parties that combine the delicious food of Mexico with the comfort of your Mexican Family in Vallarta. Reservations are suggested for these events and are available by calling 223-2853 or by e-mailing reservations(at)nowayjosemx.com. Join us on Facebook for real-time updates and special offers. Feel like you're in Mexico when you are at No Way José!
---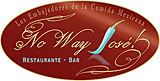 Named the "Best Overall Restaurant," "The Best Moderate Restaurant" and runners-up for "Best Service" in Vallarta Lifestyles' 2011 Readers Choice Awards, No Way José! is located on the south side of downtown at 5 de Febrero #260, just over the Vallarta street bridge on your left. Open 7 nights a week in the winter season from 4-11:30 pm, reservations are available by calling (322) 223-2853 or by emailing reservations(at)nowayjosemx.com. For more information, visit NoWayJoseMx.com.

Click HERE to learn more about No Way José!