Puerto Vallarta, Mexico - Step into any large supermarket in Puerto Vallarta or surrounding areas, and chances are Christmas trees are already lined up and ready for purchase. Artificial trees and formerly living trees. Trees have been cut down from forests throughout Mexico for our temporary amusement.
Indeed, the Sacred Fir (also known as Abies Religiosa or Oyamel,) a fir native to the mountains of central and southern Mexico, is the species of choice when it comes to Christmas trees in Mexico. Interestingly, it is also the species of choice for the thousands of monarch butterflies that overwinter in Mexico's Oyamel fir forests after their migration down from Canada.
Regretfully, the Oyamel forest ecosystem is Mexico's most endangered forest-type. Only two percent of the original forest remains, resulting in a dwindling population of monarchs and a narrowing of the distribution of the trees.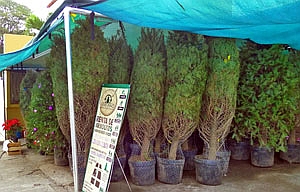 Vive Pino, located at Av. Los Tules 200
Renee Baumgarten, a local entrepreneur, has found a sensible alternative. Instead of purchasing a Christmas tree that has been sacrificed for the occasion, rent a living one so it can be returned to a suitable environment as part of a responsible reforestation program. Such is the premise of her company, Vive Pino, operating in Puerto Vallarta this year for the first time.
Already in operation in Guadalajara, our state capital, and León in Guanajuato, Vive Pino purchases trees from the state of Mexico, that were already intended for cutting down for Christmas ornamental purposes. Rather than killing them, Vive Pino had the trees transplanted to large pots and looked after for the past four months in their original ecosystem, so they could adapt accordingly.
Trees were then transported in large container trucks to Puerto Vallarta, a total of 600 trees in this first year.
What happens next?
A visit to Vive Pino's facility on Los Tules Av. near Costco, where you can select a Christmas tree of your liking for your home. Because of their size and weight — remember, these are living trees, roots, and soil included in a large pot — Vive Pino will carefully deliver your tree of choice to your home for you to enjoy during the holiday season. Only occasional watering and spraying required.
Once Christmas is over, Vive Pino will remove the tree from your home.
Finally, Vive Pino has identified Tapalpa, Jalisco, a small municipality southwest of Guadalajara and Lake Chapala, as the nearest, best-suited environment for Oyamel propagation. They have established a responsible reforestation program there, through which all the trees will be returned to the forest, never to be disturbed again.
Prices for adopting and renting a Christmas tree through Vive Pino vary according to the size of the tree. For example, an 8 foot tall tree costs $1,200 pesos, which includes home delivery, pick-up, and the subsequent transportation and care required for the reforestation program to succeed.
In short, as far as Christmas trees are concerned, this year you can truly make a difference. Vive Pino, located at Av. Los Tules 200, is an idea definitely worth considering. Visit
vivepino.com,
call (322) 224 79 38, or email vivepino.phv(at)hotmail.com for more information.