Guadalajara, Mexico – Former Chilean President Ricardo Lagos, American novelist Jonathan Franzen, and Chinese dissident writer Liao Yiwu are among hundreds of authors attending the largest book fair in the Spanish speaking world in Guadalajara, Mexico this week.
The 26th Guadalajara International Book Fair, or Feria Internacional del Libro de Guadalajara as it is known in Spanish, opened this weekend in Mexico's second largest city located in the western state of Jalisco.
More than forty countries are represented at this year's book fair – the second largest in the world after Frankfurt Germany's – including Chile, which is the guest of honor at this year's event.
Over nine days, more than 660,000 visitors, including 90,000 children, are expected to pass through the halls of the vast exhibition center, along with thousands of publishers, booksellers, distributors, literary agents, journalists, and writers.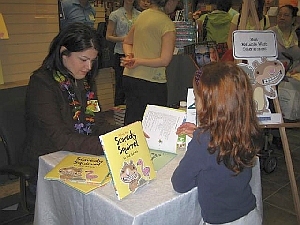 Canadian author Melanie Watt of the 'Scaredy Squirrel' children's book series
Among the other attendees are Canadian children's author Melanie Watt, who wrote and illustrated the "Scaredy Squirrel" series, Mexican journalist and social commentator Elena Poniatowska, and former Nicaraguan Vice President Sergio Ramirez.
On display are tens of thousands of Spanish language novels and books on a wide range of subjects including economics, politics, health, and social issues.
But despite the popularity of the book fair, many Mexicans do not read for pleasure, according to El Informador culture editor Eduardo Castaneda. Statistics show Mexicans on average "read fewer than two books a year," said Castaneda. "It's nothing, but nevertheless the publishing industry functions because many of the books are bought by the government."
His comments are backed up by the results of a recent survey by the National Council for Culture and Arts, which showed 76 percent of people in Jalisco state had not finished a book in the past year and more than 26 percent did not have a single book in their home.
According to Mexican author and critic Juan Domingo Arguelles, people who do read books in Mexico like entertainment and self-help books as well as books on current affairs such as politics and drug trafficking.
Increasing the reading population in Mexico is, in part, the responsibility of the publishing industry, which must embrace the digital medium rather than defend paper books, argues Domingo Arguelles.
"This is not a loss, it's just a reality," states Arguelles.
"Books are books regardless of the medium in which they are published. So they must stop this silly romantic defense of paper and defend reading, which is what matters."