Mexico - No sooner had losing US candidate Mitt Romney uttered the words "I have just called President Obama" than Mexico's president-elect Enrique Pena Nieto took to Twitter to congratulate his soon-to-be counterpart. He was looking forward to working together on common issues for their two nations, he wrote.
But beyond the obvious diplomatic platitudes, some might question how much the continuation of an Obama administration will really benefit Mexico and Latin America.
Certainly President Obama's victory was met with relief in the Americas.
Merely on a practical level, four more years of an incumbent president is far more attractive to most governments in the region than having to get to know a new leader who would need time to learn the ropes of international diplomacy.
Deportation
However, the satisfaction, if not actual celebration, felt in Latin America over President Obama's victory is based much more on his political and ideological position rather than mere practicalities.
It is clear that the immigration debate was crucial in returning President Obama to the White House.
Yet ironically, as has been pointed out by English and Spanish speaking commentators alike, more undocumented immigrants were deported in President Obama's first term than under any other president since the 1950's.
"That was an area of disappointment," says Michael Shifter, head of the Inter-American Dialogue think tank in Washington D.C., "and in general in Latin America there's been disappointment in Obama, which is why I think people would do well to have their expectations in check this time around."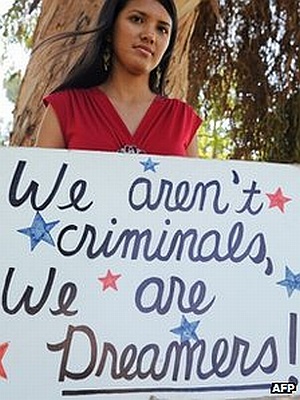 Immigration reform was a key issue
President Obama did back what is known as the Dream Act, granting undocumented immigrant students the chance to remain in the US to normalize their status, albeit at the 11th hour and in a somewhat watered down version.
In an article published on the day of the election, Mexican columnist Leon Krauze set out how he would have voted were he entitled to. After listing the shortcomings of the Obama administration, he concluded he would still vote to re-elect the president because "the alternative is much worse."
For many, that sums up the state of Latin America's current relationship with the Republican Party. "Progress under Obama has been modest at best," says Mr Shifter.
"But of course this was a choice. And some of the rhetoric from the Republicans, and from Mitt Romney himself, was a lot more aggressive and made a lot of Latinos and Latin Americans very uneasy."
Beyond the question of immigration, which is particularly pertinent to Mexico, there is a whole raft of issues that concerns the rest of Latin America.
Argentine President Cristina Fernandez de Kirchner was among those congratulating President Obama, but she also urged him to "assume the role of global leader to overcome this political and economic crisis."
The US remains the major trading partner for many Latin American countries and when its economy is down, the knock-on effect can be felt across the region.
There are other Latin American issues too which featured heavily in the Obama 2008 campaign, but which have since been overtaken by matters in the Middle East and an economic crisis at home.
Words, no deeds
There was hope in some quarters, for example, that President Obama would lift the decades-old trade embargo on Cuba. He might also foster a less fractious relationship with President Hugo Chavez in Venezuela, it was suggested at the time.
"In the relationship with Cuba, from Washington's point of view, there were steps that were taken," says Mr Shifter, "in terms of making travel more flexible, lifting restrictions put into place under President George W Bush, and on remittances."
"Latin America viewed these moves as next to nothing," Shifter said. "It was seen as politically safe and sentiment was that Obama hasn't been prepared to invest much political capital in the region."
Rebuilding an earthquake and cholera-ravaged Haiti was also an area in which the president's critics say his rhetoric has not been matched by action.
In neighboring Mexico, the continuing drugs violence shows little sign of abating, particularly in the states that border the US.
Amid the millions of votes being cast on Tuesday, the states of Washington and Colorado approved the legalization of the recreational use of marijuana. The drug is a huge cash crop for Mexico's violent cartels and advocates say the measure could cost the gangs hundreds of millions of dollars a year in profits. Nevertheless, it seems unlikely that the Obama administration will accept the calls to radically rethink the war on drugs.
The key question then, is whether Latin America can expect any greater focus on the region from a second Obama presidency, especially with pressing international emergencies in Syria - and elsewhere - and the bleak situation of the global economy.
"I don't think there is anything to suggest that things will be different this time around," says Michael Shifter. "I think the only ray of hope for Latin Americans will be on immigration."
Given the importance of the Latino and Hispanic vote in securing a second term for Barack Obama, he might well be feeling inclined to champion their cause.