Puerto Vallarta, Mexico - Christmas is a time to get together with family and friends to celebrate, and food plays a big part in any Mexican Christmas celebration.
In Mexico it is customary to have a family dinner late on Christmas Eve, or "Noche Buena." Here are some of the foods that are traditionally eaten at Christmastime in Mexico, either at Christmas Eve dinner or sometime during the festivities leading up to Christmas such as "Las Posadas."
There are many traditional Mexican dishes that are included in almost every holiday, such as tamales, but I have picked out just a few recipes that are mainly for Christmas, and only include ingredients that you can be obtained almost anywhere and be prepared with relative ease.
If you're in Mexico for Christmas, be sure to sample these festive dishes, and if you can't be in Mexico for the holidays, you can add a Mexican touch to your celebration by including some of these foods.
Puebla Style Eggnog - Rompope
This beverage was first made by the colonial-era nuns at the Convent of Santa Clara in Puebla, and the Santa Clara brand is still one of the most popular. It is fun and very easy to make at home. Unlike north-of-the-border eggnog, rompope already contains alcohol, although in a small proportion, so it does not require the addition of rum or brandy, as is the custom in the US.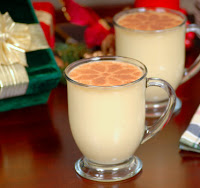 Puebla Style Eggnog
Ingredients
• 2 quarts milk
• 1/2 teaspoon baking soda
• 2 cinnamon sticks
• 2 cups sugar
• 2 teaspoons pure vanilla extract
• 12 egg yolks, beaten
• 1 cup grain alcohol (96 proof) or 2 cups rum
In a large saucepan, bring the milk to a boil with the baking soda and cinnamon. Remove from heat and allow to cool. Boil again, remove from heat, and cool again.
Stir in sugar, vanilla, and beaten egg yolks. Return mixture to the heat and simmer over a medium flame, stirring constantly, until the bottom of the pan can be seen when stirring. Remove from heat and allow to cool. Stir in grain alcohol or rum.
Makes 8-12 servings
Stuffed Roasted Turkey Roulade - Rollo de Pavo Relleno
This traditional Mexican meat stuffing for turkey is reminiscent of Spanish picadillo. Since only the breast — which tends to have less flavor than dark meat — is used in this recipe, the richness of the stuffing works well with the mild white meat. Cut into thick slices, it forms an attractive spiral pattern, perfect for presenting on a platter.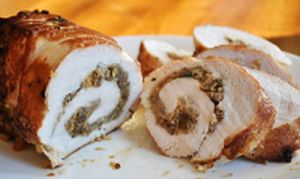 Stuffed Roasted Turkey Roulade
Ingredients
• 2 tablespoons corn oil
• 1 onion, chopped
• 6 cloves garlic, minced
• 1/2 pound coarsely ground beef
• 1/2 pound coarsely ground pork
• 1 pound roma tomatoes, peeled, seeded, and chopped
• 4 ounces blanched, slivered almonds
• 4 ounces pitted green olives, sliced
• 4 ounces raisins
• 3/4 cup dry sherry or white wine
• salt and pepper to taste
• 1 whole turkey breast, about 5 pounds
• 4 tablespoons butter, melted
Heat the oil in a large skillet. Saute the onion and garlic until the onion is transparent. Add both kinds of meat and cook, breaking it up with a wooden spoon, until no longer pink.
Add the tomatoes and cook until juice evaporates. Add the remaining ingredients and cook until the wine has evaporated by half. Add salt and pepper to taste. Set aside to cool.
Bone and butterfly the whole turkey breast, or have the butcher do this. Open it like a book, skin side down. Season the meat with salt and pepper.
Preheat the oven to 325°F.
Spread the stuffing evenly on the meat, leaving about a 1/2 inch border. Do not mound the meat, as this will make the turkey breast difficult to roll.
Roll the turkey breast like a jelly roll, tucking in any stuffing that falls out the sides. Tie the turkey roll every 2 inches with kitchen string.
Place the turkey roll seam side down on a rack that has been set on a baking sheet. Brush it with the melted butter and season with salt and pepper. Roast for 1 3/4 to 2 hours, or until a meat thermometer inserted into the center reads 150°F.
Remove the turkey from the oven, cover with foil, and allow to rest at least 15 minutes. The internal temperature will continue to rise during this time.
Slice the turkey roulade into 1/2 inch thick slices and fan out on a platter. Makes 8-10 buffet servings.
Poblanos Rice Casserole with Cheese - Arroz Verde con Queso y Rajas
If preparing this with Mexican rice, thoroughly rinse and drain beforehand, to eliminate the excess starch. In the United States, rice is milled differently, so the rinsing is not necessary.
Poblanos Rice Casserole with Cheese
Ingredients
• 1 1/2 cups rice
• 4 large, fresh poblano chiles, roasted, seeded, and peeled
• 2 lettuce leaves
• 2 sprigs fresh parsley
• 2 sprigs fresh cilantro or epazote
• 3 large cloves garlic, peeled and chopped
• 3 3/4 cups chicken broth
• 4 tablespoons vegetable oil
• 1 1/2 cups Mexican crema or heavy cream
• 1 1/2 cups sour cream
• 2 1/2 cups grated Chihuahua, gouda or jack cheese
• 1/2 medium onion, chopped, plus 1 whole onion, cut into thin crescents ("lunitas")
Rinse and drain the rice if preparing Mexican milled rice. If not, eliminate this step
Roughly chop 2 of the roasted poblano chiles, the lettuce leaves, parsley, cilantro or epazote, 1/2 onion and 1 clove of the garlic. Place the chopped ingredients in a blender with 1/2 cup of the chicken broth, and puree until smooth.
In a heavy bottomed pot, sautι the rice in 2 tablespoons of the oil until it is beginning to turn a pale golden color. Add the pureed ingredients, and when the puree has been absorbed, add the remaining broth. Cover and simmer until liquid has been absorbed. Remove from heat and let sit, covered, for a few minutes.
While the rice is cooking, tear the remaining poblanos into strips (rajas,) heat the remaining oil in a skillet, and sautι the poblano strips, onion crescents, and remaining garlic until the onion is transluscent. Set aside.
In a small bowl, mix the two kinds of cream.
Preheat the oven to 350°F.
To assemble the casserole: Place 1/3 of the rice in to a buttered baking dish, followed by 1/3 of the sautιed chile-onion mixture, 1/3 of the cream mixture, and 1/3 of the cheese. Repeat with 2 more layers of each, ending with a layer of cheese. Bake 15-20 minutes, or until cheese is bubbly. Serves 8-10 as a side dish.
Mexican Christmas Cookies - Galletas de Navidad
Both blackberry and apricot jam are produced in great quantity in late summer and enjoyed during the cooler months, especially in the Sierra Madre region, where fruit orchards abound. Either one may be used in these cookies.
Ingredients• 1 1/2 cups butter, at room temperature
• 1/3 cup sugar
• 3 cups flour
• 1 1/2 teaspoons vanilla extract
• 4 eggs, separated
• 3/4 cup sugar
• juice of 1 lime
• 2 1/2 cups fruit preserves
• 1/2 cup Grand Marnier
• 1/2 cup confectioners' sugar
• 3/4 cup chopped walnuts
Mix the butter, sugar, and flour until well blended. Add the vanilla and egg yolks and mix until a large ball can be formed.
Knead the dough 4 to 5 minutes, dust with flour, cover with plastic and refrigerate 30 minutes to 1 hour.
Preheat oven to 350ΊF. Grease two cookie sheets.
Beat the egg whites until stiff, lower mixer speed and gradually sugar and the lime juice. Beat for 1 minute, until the mixture is shiny.
On a large, floured surface roll out the dough. Transfer it to the greased cookie sheets and continue to roll out until very thin.
Combine the preserves and the Grand Marnier, then spread the mixture over the dough. Cover the preserves with the beaten egg white mixture and sprinkle with confectioners' sugar and chopped walnuts.
Bake for 45-60 minutes or until egg whites are golden brown and crispy. Remove from oven, allow to cool and cut into squares. Makes about 2 1/2 dozen.
Whether you're celebrating a Mexican-inspired Christmas or want to start a new Christmas food tradition, these recipes will make a big impression on anyone who is lucky enough to share them with you!