Santa Ana, California – Corazón Inc., a Santa Ana-based nonprofit that builds houses for poor families in northern Mexico, is celebrating its 35th anniversary and launching a new program aimed at making it easier for individuals to participate in its work. The celebration on Saturday will be the first with executive direct Jennifer Allen at the helm.
Allen, 35, was hired last February, and has been dealing with the challenges that the organization has been grappling with in recent years. Those include raising funds during the recession and lingering fears that many Americans have about travel to Mexico.
As executive director, Allen, who had worked in Mexico City for several years, went on house-builds for the first time.
"I was amazed at the volunteers and their and commitment," Allen said. "To get up at 4 am and be part of it; I was touched. I have a very soft spot for Mexico. To move back to Southern California and to see so many people from the United States have such a wonderful experience in Mexico is exciting. Especially when you see high school kids getting dirty and being with their parents. They get a new glimpse of what the world is really like."
Before joining Corazón, Allen had been operations manager for the Mexican Association for Rural and Urban Transformation in Mexico City. It runs community development programs in central and southern Mexico.
Corazón works in seven communities in the Tijuana and Tecate areas of Baja California. Last year, its US volunteers were involved in about 30 construction projects and built 19 homes – similar to 2011 levels. The other projects included room additions, drywall, painting, roof repair, and bathroom additions and repairs. In Mexico, volunteers from Corazón supported communities engaging in repair projects. A Mexican nonprofit has been established, which last year received about $3,000 in government support.
Typically each home-build involves a group of about 50 volunteers from a church or civic organization. Each group provides $7,600 for their building project. Smaller projects may take 20 to 30 volunteers. The nonprofit has built some 1,500 houses.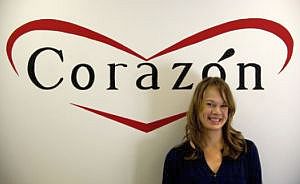 Jennifer Allen - Executive Director Corazón Inc.
Fund-raising for those groups has been challenging, said Allen, a Santa Ana resident.
"On the whole, we can get enough volunteers to build," she said. "We have a stable source of volunteers who are excited and willing to go down to Mexico to do the work. But for them, raising money is where the challenge is. We're looking for new funding sources, new leads in order to increase the number of houses being built"
Under a new "Up on the Roof" program, individuals who want to take part in house-building can contribute $200 toward a project to be a part of it.
Besides home-building, Corazón offers tutoring and recreational activities to students, as well as job-training classes for adults. They also provide financial support to students.
Some 300 Mexican students, ranging from elementary to college, received aid of $50 to $100 to help them continue their studies. Even in public schools, Mexican students must pay for uniforms, books, and registration fees. Costs per year can range from $250 for elementary students to $2,000 a year for college. The money comes from donations, and the organization is seeking a volunteer who could resurrect a program that matches sponsors to individual students.
The group is still dealing with fears many Americans have of travel in Mexico because of reports of violence among its drug cartels.
Corazón has a perfect safety record, and works to maintain it by organizing caravans of volunteers, equipping travelers with walkie-talkies so they can stay in touch with each other, and providing escorts. A house-build takes place in the day, so volunteers can leave Mexico before dark. Also, some groups rent a bus because for some Americans it's nerve-wracking to even drive in a foreign country, she said.
"Crime has increasingly gone down," Allen said. "But unfortunately people get really nervous about what they hear."
Treasurer Don Mersch, 74, of Newport Beach says he'll never forget his first home-build in 1991. "At the end of the day, a family with three to four kids who had been living in little more than a tent got the keys. You get the benefit that you've really helped someone," he said. "I always tell people it's a wow!"
To learn more about Corazón and how you can help click here.
Photos: Michael Goulding - Orange County Register