Mexico - January 6th is a special day in Mexico. Known as 'El Dia de Reyes,' or Three Kings Day, this holiday represents the height of the Christmas season.
The date marks the culmination of the twelve days of Christmas and commemorates the three wise men - Gaspar, Melchior, and Balthasar - who traveled from afar, following the star of Bethlehem, and bearing gifts of gold, frankincense, and myrrh for the baby Jesus.
The figurines of the Magi are added to the nativity scene the night of January 5th and it is them who are the bearers of gifts, leaving presents in or near the shoes of small children, not Santa Claus on the night before Christmas.
The holiday is also known by the name of "The Epiphany" which dates back to the 4th century. A grand feast would be held on this day to honor the occasion of Jesus' baptism and to pay homage to the three wise men.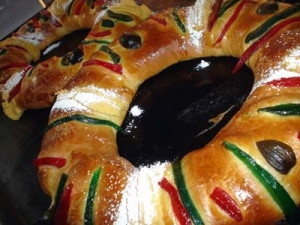 Rosca de Reyes - King's Cake
Three Kings Day is an important holiday for the people of Mexico. In addition to the gift-giving aspect of the day there is also a culinary treat that is specific to the holiday. Known as 'Rosca de Reyes,' or King's Cake, this holiday dessert offers much in the way of symbolism. Shaped in the round to signify a king's crown, this sweet bread holds a special surprise. Baked inside is a small plastic figurine representing the baby Jesus.
Whoever finds this token is obligated to host last of the Christmas festivities - the 'Dia de la Candelaria,' or Candlemas Day, which occurs 40 days after Jesus's birth on February 2nd. On this day, throughout Mexico people take down their nativity scene, dress up the figure of baby Jesus and take him to the church to be blessed. They then get together at the token-finder's host's house to eat tamales.
The effigy of the baby Jesus, hidden inside the cake, represents another aspect of the holiday. The reason Jesus is 'hidden' inside the bread is to symbolize how the Christ child's birth location needed to remain secret, in order to spare his life. The ruler of Jerusalem at the time, King Herod, had been appraised of the mystical signs that indicated the new and rightful King of Jerusalem was soon to be born. Herod's reaction to these predictions was swift and horrible. He ordered his minions to murder all male infants recently born in Bethlehem. However, Mary and Joseph found their lodgings in a manger, not an inn, and Herod's henchmen didn't think to look for an infant king in such a location.
Another lovely custom associated with the Three Kings Day holiday centers around the evening meal. Traditionally, the supper served on this special day is delicious corn tamales accompanied by hot chocolate. This makes for a perfectly quintessential Mexican meal and one that is enjoyed by everyone in attendance.