Mexico City, Mexico - Mexico's federal government may limit the amount of debt and the size of deficits that states and municipalities accumulate, as local debt levels have doubled in recent years and a handful of governments, including the state of Jaliscos', have defaulted on debt payments.
The proposal is tricky to maneuver because Mexican states are independent federal entities, complete with their own constitutions, and as such they may tap as much nonguaranteed debt as they like. The states do require congressional approval to issue long-term debt backed by their shares of federal tax revenue.
Local Mexican governments have limited independent revenue sources, relying instead on transfers from the federal government to cover close to 9 percent of their budgets. And much of their revenue from the federal government is earmarked for spending on specific areas, such as education.
State and municipal debt registered with the finance ministry stands at 3 percent of Mexico's more than $1 trillion annual gross domestic product, up from 1.5 percent in 2008. Such levels are well below that of the US, where outstanding local government debt hovers at 19 percent of GDP, and it isn't indicative of a broader macroeconomic crisis.
Nonetheless, recent high-profile defaults and incidents of mismanagement have put the issue on the federal government's radar.
In an interview, Deputy Finance Minister Miguel Messmacher called the trend of rising local government debt "clearly not sustainable," saying that discussions between Mexico's three biggest political parties and the finance ministry hinge on creating a "mechanism" that would limit "bad behavior" that could lead to sustainability problems in public finances.
The Deputy Finance Minister declined to offer specific examples of mechanisms, saying that negotiations are ongoing. The Finance Ministry hopes to submit the bill to Congress sometime in February.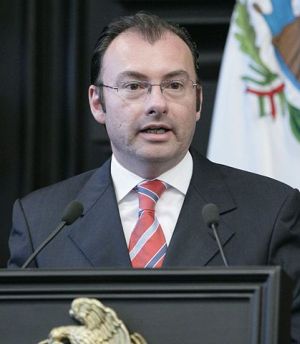 Mexico's Finance Minister Luis Videgaray
Finance Minister Luis Videgaray reiterated this week the federal government's long-held stance that it won't bail out indebted local governments. The federal government doesn't guarantee local government debt, but it does monitor obligations guaranteed by income the states receive from their share of federal tax revenue. The federal government could find a way to offer incentives for responsible debt accumulation via its control over federal tax transfers.
Alejandro Valenzuela, chief executive of Grupo Financiero Banorte SAB, which is the most-exposed to the sector after having extended 30 percent of the $21 billion in loans that commercial banks have given local governments according to November data from banking regulator CNBV, takes a positive view of the finance ministry's efforts to put order in local public finances.
It's rare for the federal government to act so proactively, the executive said, recalling how just a few decades ago, the federal government itself was overly indebted.
But Mr. Valenzuela says the reality is that many local governments have legitimate needs to boost infrastructure and other spending to keep pace with growth, and that as a whole they are under-leveraged compared with international peers. "I'm not losing any sleep over bad debt at a few states and municipalities," he said.
In 2011, Banorte restructured loans worth nearly $1 billion that it had given three states - Aguascalientes, Coahuila, and Sonora - extending maturities out to more than twenty years without offering write-downs.
Mexico's most recent high-profile default came from the state of Jalisco, which missed a principal payment in December on a short-term loan with Grupo Financiero Interacciones SAB. The state blames its debt troubles on expenditures for the Panamerican Games, an athletic event that took place in October 2011.
According to the CNBV, loans to local governments represent close to 10 percent of Mexican banks' $2.71 trillion pesos combined credit portfolio.
The CNBV tightened reserve requirements for bank loans to local governments after Coahuila revealed in 2011 that its debts had exceeded 8 percent of the state's annual GDP, and three times its share of federal taxes. Coahuila's debt load exploded due to fraud and theft by public officials.
Proposals for limiting local government indebtedness range from improving communication with federal officials to imposing measurable caps.
A legislator from a small leftist party, Ricardo Monreal, wants local governments to submit monthly status reports detailing debt obligations, pending interest payments, short-term loans with commercial banks and deficits for education spending and pensions.
Dolores Padierna, a senator with the leftist Party of the Democratic Revolution, argues for imposing a debt ceiling equal to 30 percent of the entities' share of annual federal tax revenue; currently debt obligations reported to the finance ministry equal about 80 percent of the local governments' share of federal tax revenue, compared with 50 percent in 2008.
Mariana Gomez, a senator with the National Action Party, suggests jail sentences of up to 12 years for local government officials who accumulate debt exceeding 7 percent of their locality's GDP.
Such one-size-fits-all approaches might not be ideal, since dynamic and growing states that are better positioned to pay back debt are also likely to need short-term financing for public projects. "It's difficult to measure them all with the same ruler," says Moody's analyst Adrian Garza. Moody's Investors Service assesses the credit worthiness of a corporation's or government debt issues.
Mr. Garza says what is really needed is greater fiscal discipline and transparency at the local government level. Spending tends to rise during election periods, so Mr. Garza is on the lookout for defaults in the wake of a politically active 2012, with elections at both the national and local levels.