Puerto Vallarta, Mexico - Mexico's recently implemented Ley de Migracion remains a topic of keen interest among Banderas Bay area expatriates, as demonstrated by the huge turnout at the February 13th information session presented by the United States Consular for Vallarta, Kelly Trainor, at the Paradise Village resort complex in Nuevo Vallarta.
While much of the information offered at the presentation - including that contained in the INM Rules in English handout - has been published in previous articles, repetition of prominent points brought up during the town hall meeting may be of value to foreign residents and visitors.
The three broad categories of the new INM permit laws and changes that now apply to foreign full- and part-time residents and visitors were explained:
Visitante (visitor) permits are valid for a maximum stay of 180 days. During that period the holder is allowed to open a bank account, make investments, purchase real property or get married in Mexico without special permission.
Once that time is up, most individuals must leave the country. Applications for a new type of permit must be submitted to Mexican consulate offices in their home country. Foreigners who have married or established family ties to Mexican citizens are exempt and can request a change in status through INM.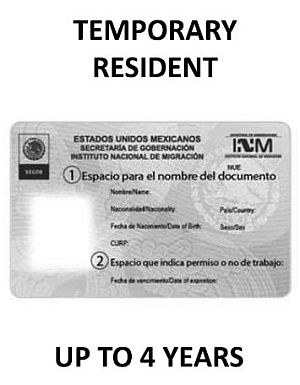 Permanent Residency Status Does Not Expire
Residente Temporal (temporary resident) permits are good for up to four years. All persons living here under no-inmigrante or inmigrante status granted before the law changed now automatically fall into that category. The status expires 12 months after the holder obtains the third renewal permitted under the new law, or a fourth renewal as allowed under the prior system.
In the 30 days before it lapses, there is an opportunity to apply for permanent status without proving investments or pension income levels that were bumped up considerably as of last November.
Otherwise, foreigners are obligated to leave the country, with options to apply for a new four-year permit through a consulate in their home country or to return to Mexico under 180-day visitor status.
Those who already have temporary resident permits are not required to meet the new financial solvency bar when filing for their remaining renewals. However, it is taken into account if they decide to start over as retirees or pensioners in the same category once their 4 years run out. In that case, the 2013 requirement is an average monthly balance of $12,000 USD in investment holdings over the last 12 months, or bank statements proving a monthly income of $3,000 USD.
The new regulations DO lay out alternative paths that may be followed in lieu of the retiree qualification route, such as job offers, investment in a Mexican enterprise, or proof of family ties in Mexico.
Residente Permanente considering the trend towards permanent resident status, how to go in that direction is relevant to many expats.
Residents with Temporary Status may apply for Permanent Status at their local INM office at any time. Those who choose to wait out the full 4 years of their permits automatically qualify for the change in status. Those who apply for the change beforehand are subject to meeting the new investment or income standards as outlined above.
Couples can get around the income/investment guidelines for each party if one obtains permanent status first and the spouse subsequently applies under the family ties pathway.
Those who previously obtained Inmigrado status automatically rank as permanent residents. For the time being INM booklets and ID cards issued prior to November remain valid, although notifications requiring exchange of those documents for new cards may be issued at a later date.
Issues about foreign-plated cars that are of concern to many expats were also addressed. Click HERE to download information in PDF format.
In lieu of a lengthy Q & A session, those who planned to participate were encouraged to send the questions they wanted answered to the U.S. Consular Agent for Vallarta prior to the February 13th meeting. Click HERE to download the Immigration Q&A in PDF format.
This article is meant as a public service announcement, not as legal advice. For more information, (in Spanish) visit inami.gob.mx or call 01-800-004-6264 toll free within Mexico, the Puerto Vallarta immigration office at (322) 224-7653, or the Nuevo Vallarta INM office at (322) 297-6343.