Mexico City, Mexico - The Mexican government announced Wednesday it has fired an official whose daughter sent inspectors to shut down a restaurant that didn't give her the table she wanted.
It's the latest comeuppance for the wealthy and well-connected who have recently caused anger in Mexico with arrogant behavior in public.
Interior Secretary Miguel Angel Osorio Chong called a news conference to say the government fired Humberto Benitez Trevino as head of the country's consumer protection agency, or PROFECO, after his daughter got inspectors to punish an upscale Mexico City bistro in late April.
Osorio Chong said that while there was no evidence of wrongdoing by Benitez Trevino, the "Lady Profeco" scandal had "damaged the agency's image prestige."
Earlier, the federal comptroller's office suspended four officials of the agency pending an investigation, saying they had violated protocol by carrying out a lightening raid on the restaurant, when under normal procedures they would not have done so.
The daughter had expressed her anger on social networking sites about not getting the table. Hours later, inspectors descended on the bistro and hung signs on its walls saying it violated consumer-protection rules. Some diners there at the time tweeted critical reports of the raid, setting off a furor on social media.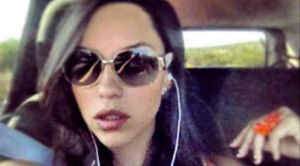 Andrea Benitez/'Lady Profeco'
Benitez Trevino had apologized for the scandal, but he himself worsened the situation a week ago when he called a news conference to say he wouldn't resign. He appeared defiant and old-school, vowing to remain in office: "I never even thought about resigning because I adhere to republican values, and among those values is a cult of personal manliness."
The issue of people trying to use wealth, power, or political connections to get out of trouble, or get special treatment, is a longstanding gripe in Mexico. But in recent years, social media and networking sites have made it easier to document and ridicule such behavior.
Another furor brewed up last week when a woman crashed her Porsche while allegedly driving drunk, then threatened police officers that she would get them fired if they tried to arrest her.
She was hauled off to jail anyway, and this week the woman hit by the car died, and the driver now faces charges equivalent to manslaughter.
President Enrique Pena Nieto's Institutional Revolutionary Party, which ruled Mexico for seven decades before losing the 2000 presidential election, was long known as a haven of cronyism. The party claims it has changed.
Osorio Chong said Pena Nieto wanted to send a message with the firing of Benitez Trevino.
"The president is sending a clear message to all public servants in the country ... that beyond complying with our duty under the law, we have the obligation to conduct ourselves ethically and with deep professionalism," Osorio Chong said.