Puerto Vallarta, Mexico - Just a few steps from the new Los Muertos Pier on the south side of Puerto Vallarta, you'll find Si Señor Beach Restaurant. This popular south side eatery's beachfront location is wonderful - and so is the traditional Mexican food.
If you visit Si Señor Beach during Restaurant Week, May 15-31, 2013, you will be able to sample a variety of delicacies. There are three courses for only $189 pesos and you can enjoy them from 5-11 pm. The perfect hours for relishing a spectacular sunset.
Appetizer Selections
• Mexican Chicken Pot Pie, masa baked and stuffed with chicken, cheese and chiles and topped with two sauces, enchilada and chipotle
• Traditional Tortilla Soup
• Jicama Tacos, thin slices of jicama filled with guacamole and panela cheese
Main Course Choices
• Sautéed White Fish Fillet with white wine, garlic, guajillo chiles, scallions & baby potatoes
• Pipian Chicken
• Shrimp Enchiladas, served with your choice of guajillo or mole sauce
Delightful Desserts
• Mexican Rice Pudding
• Caramel Flan
• Banana Bread Pudding
Available between 5-11 pm through May 31st, the 2013 Restaurant Week menu at Si Señor Beach is a great way to sample some of Vallarta's best traditional Mexican cuisine at a discounted price. The restaurant boasts a formal dining area and beach dining at comfortable tables or chaise lounge chairs, making it a great place to enjoy a spectacular sunset view - and an even better meal.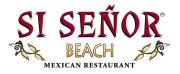 Open daily from 9:00 am to 11:00 pm, Si Señor Beach Restaurant is located on Los Muertos Beach at Amapas 114, in front of the Hotel Emperador on the South side of Puerto Vallarta. For more information or to make your reservations, call (322) 222-0577, send an email to
Contacto@SiSenor.mx,
or visit
SiSenor.mx.
---
Restaurant Week 2013 runs from May 15-31 at some of the most recognized restaurants in Puerto Vallarta. Don't miss the chance to dine at your favorite Puerto Vallarta restaurant - and save a bundle! Click HERE for a sneak peek at the menus some of the other participating restaurants are serving.