Puerto Vallarta, Jalisco, Mexico - Mexican cooking is diverse and varies from one region to another, one of the most famous being Oaxaca (wah-hah-kah.) It is a state in Southwestern Mexico and its capital is also named Oaxaca. There are many natural and cultural divisions across the state and together these combine to provide a wide variety of dishes, which is a fusion of pre-Hispanic and Spanish ingredients.
Delectable moles, unique chiles, and Mexico's use of corn tortillas, come from Oaxaca. Several dishes from the state are part of the Si Seņor Beach menu. The restaurant is located in Puerto Vallarta, Mexico on the famous Los Muertos Beach and features cuisine from all over Mexico.
Oaxaca is known as the 'Land of Seven Moles' and these intricate sauces, made by toasting and grinding spices, seeds, and chiles, are truly the hallmark of the region. Si Seņor Beach serves the traditional Oaxaca black mole. There are more than 60 varieties of chiles that are only grown in Oaxaca, and this recipe uses 17 of them. You'll also find hints of chocolate, plantains, different seeds and cinnamon. This mole is served over a grilled chicken breast.
Oaxaca cheese, also known as quesillo, is another delicacy, think of it as Mexican string cheese. Si Seņor Beach uses it to top or stuff several dishes or you can order the queso fundido, (Mexican fondue served with warm tortillas) and make tacos to enjoy the cheese's flavor to its fullest.
The corn dough known as masa, used for tamales and a wide variety of tortillas, from thick to thin, plain to stuffed, plays a huge role in Oaxacan cooking. Tamales are a renowned Oaxacan classic. The succulent banana leaves are wrapped around bundles of fluffy masa. At Si Seņor Beach Restaurant, they are filled with Oaxaca style chicken, which is shredded and mixed with the traditional black mole.
Let you taste palette come to life at Si Seņor Beach Mexican Restaurant, where only the freshest ingredients are used create a colorful cuisine, rich in flavors, aromas, and textures.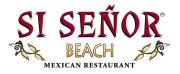 Open daily from 9:00 am to 11:00 pm, Si Seņor Mexican Restaurant is located on Los Muertos Beach at Amapas 114, in front of the Hotel Emperador on the South side of Puerto Vallarta. For reservations, call (322) 222-0577, send an email to
Contacto@SiSenor.mx,
or visit
SiSenor.mx
.
Click HERE to learn more about Si Seņor Beach Restaurant.