Puerto Vallarta, Jalisco, Mexico - Summertime is the perfect time to relax on the beach and sip on something sweet, smooth, fruity, and refreshing. One of the advantages of living in Puerto Vallarta is that there's never a shortage of tropical cocktails at Banderas Bay's beachfront restaurants and bars.
For a tropical take on a classic Mexican cocktail, try Si Señor Beach Restaurant's recipe for a tangy Frozen Mango Margarita. This drink is fruity, and perfect for a hot summer afternoon in Puerto Vallarta.
Here, fresh mango is mixed into a traditional Margarita mixture of tequila, lime juice and orange liqueur. The mango is the most dominant flavor, but the tequila doesn't get lost. The tart lime juice helps bring out the drink's fruity flavor and keeps it from tasting too sweet. It's equal parts sweet and tart, cool and refreshing, potent and oh-so drinkable.
Of course, the best thing about tropical cocktails is enjoying them with friends, so use this recipe to blend up a batch of Si Señor's Mango Margaritas at your next 'grownups only' fiesta and share this frozen treat with friends and family.
Frozen Mango Margarita Recipe
1-2 cups Ice Cubes
2 cups Fresh Cut Mango
1 oz. Jarabe (simple syrup, a sweetening agent that can be left out)
1 oz. Triple Sec
Fresh Lime Juice, to taste
2-3 oz. Tequila, to taste
Combine the ingredients in a blender and give it a spin. Check for consistency and add more ice, tequila, or mango if needed. Moisten the rim of margarita glasses with a lime wedge and roll in salt, sugar or a mixture of both.
At Si Señor Beach Restaurant on Puerto Vallarta's famous Playa Los Muertos, Max the bartender gives the drink an extra kick by coating the rim of the glass will Tajin, a red chile and lime dry spice. No matter what flavor you prefer, the full service bar mixes up the best frozen margaritas in town, adding the liquor right at your table to your specifications.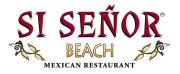 Open daily from 9:00 am to 11:00 pm, Si Señor Mexican Restaurant is located on Los Muertos Beach at Amapas 114, in front of the Hotel Emperador on the South side of Puerto Vallarta. For reservations, call (322) 222-0577, send an email to
Contacto@SiSenor.mx,
or visit
SiSenor.mx
.
Click HERE to learn more about Si Señor Beach Restaurant.