Puerto Vallarta, Mexico - Fresh seafood is a big benefit of living on the Pacific Coast of Mexico. Shrimp are abundant and play a big role in the local restaurant scene. The staff at The Blue Shrimp Restaurant in Puerto Vallarta, Mexico serves close to ten tons of these crustaceans per year at the Los Muertos Beach location.
The restaurant's owner buys the shrimp and other seafood directly from fishermen who ply the waters near San Blas and Mazatlan, just north of Puerto Vallarta. He has maintained a great working relationship with the fishermen for over 10 years, which guarantees that the seafood delivered to his restaurant each day is always fresh - never frozen.
There are over 30 different recipes for shrimp on The Blue Shrimp's menu. Coconut shrimp has been the best seller since the restaurant first opened its doors in 1999. The jumbo shrimp are dredged in batter, then in fresh grated coconut and deep fried. This creates a crusty envelope. They are served with a homemade spinach cream dipping sauce.
Portuguese style shrimp is the number two best seller. The shrimp are placed on skewers, a piece of Gouda cheese is set next to the shrimp, they are wrapped in bacon and deep fried. This in an incredible taste sensation. They are served with a dipping sauce made with red and green bell peppers, butter, brandy and bacon.
The chefs came up with the original recipe for cranberry shrimp. This mixture is tangy and sweet with sautéed shrimp swimming in the cranberry gravy. A must try if you love the zip of whole cranberries.
Almost everyone has had a shrimp cocktail at a dinner party. Recipes from the early 1900s show shrimp cocktails that are pretty much the way they are served today. Cold, cooked shrimp served with spicy sauce and sometimes served with hard boiled eggs. The Blue Shrimp takes the presentation to the next level.
Scampi is another popular dish, with an Italian origin, which became popular during World War II. Jumbo shrimp are sautéed in olive oil, parsley and of course, garlic to make it all flavorful. The chefs at The Blue Shrimp add white wine and mushrooms to the mix.
Shrimp are high in levels of omega-3s, calcium, iodine and protein. A great light meal on a hot and humid day, especially if eaten cold.
No matter how you like your shrimp prepared, you can enjoy it under the restaurant's huge, soaring palapa or enjoy it at an umbrella-covered dining table on the beach. Wherever you sit, The Blue Shrimp's relaxed, family friendly atmosphere sets the stage for a great meal.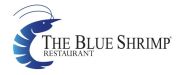 Open for breakfast, lunch, dinner or snacks and cocktails from 9 am until 11:30 pm, The Blue Shrimp is situated on Los Muertos Beach at Olas Altas 366 on the South side of Puerto Vallarta. For more information or reservations, call (322) 222-4246, email TheBlueShrimp12@hotmail.com or visit TheBlueShrimp.com. Click HERE to learn more about The Blue Shrimp