Puerto Vallarta, Jalisco, Mexico - People have been enjoying a good bottle of wine for thousands of years. In that time the process of growing grapes and making and storing the fermented juice has evolved, greatly. The tropics pose a storage challenge because heat and humidity can spoil a wonderful vintage.
Management at The Blue Shrimp Restaurant in Puerto Vallarta, Mexico have ensured that their wine is always perfect for consumption. They have a wine room, where temperature and humidity are monitored by a climate control system. Properly stored wines maintain their quality but many actually improve in aroma, flavor and complexity as they mature.
At full capacity, their wine room can hold just over 230 bottles. The restaurant features wines from Mexico, Argentina, Chile, the US and Australia. There's not only great seafood but flavorful wines to accompany any meal. The knowledgeable wait staff assists clients with their selections, so the dining experience will be exquisite.
Wine is a natural, perishable food product and needs to be protected from too much light and humidity and kept at a constant temperature, if not, it can spoil. The optimum is between 45-64°f/ 7-18°c. A temperature of 55°f/13°c, much like that found in the caves used to store wine in France, is ideal for short-term storage and long-term wine aging.
The wine room at The Blue Shrimp is just off the dining room. All wines in stock can be seen lying on their sides. They are stored this way because the liquid keeps the cork moist and forms a seal around the cork, not allowing too much oxygen into the bottle, which will ruin the wine. The cork "breathes" through its small pores and lets the wine age well because wine needs a bit of oxygen in order to do this.
The next time you are visiting The Blue Shrimp be sure to check out the wine room and order the perfect bottle to accompany one of the over 30 shrimp dishes that they serve. It is the coolest appliance in the restaurant.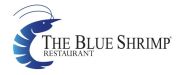 Open for breakfast, lunch, dinner or snacks and cocktails from 9 am until 11:30 pm, The Blue Shrimp is situated on Los Muertos Beach at Olas Altas 366 on the South side of Puerto Vallarta. For more information or reservations, call (322) 222-4246, email TheBlueShrimp12@hotmail.com or visit TheBlueShrimp.com. Click HERE to learn more about The Blue Shrimp