Puerto Vallarta, Jalisco, Mexico - Mexico's cultural heritage is often wrapped up with its food and drink. There's guacamole, pozole, chile rellenos, atole, jamaica, tequila and Mexican beer. Now there is a new group of business people that want to make Mexican wine just as important.
Grapes are grown and made into wine in most of Mexico's northern states. One area is being touted as the next Napa, Valle de Guadalupe in the Baja Peninsula. It is a young industry but growing rapidly. Many of the vineyards and wineries are family owned and operated. They offer tourists a great chance to sample the juice of the grape, along with wonderful meals and traditional haciendas as accommodations.
Many restaurants in Banderas Bay are serving a variety of Mexican wines by the bottle or glass. The staff at Si Señor Beach Restaurant in Puerto Vallarta recently had a wine tasting that featured a Sierra Gorda Cabernet Sauvignon/Merlot/Malbec blend from Viñedos la Redonda in the Querétaro region.
"We like to have all the waiters present for wine tastings," says Abel Arreola Zúñiga, Si Señor Beach manager, "they learn about the wine and what would be some great pairings from our menu. The presentation includes a history about the winery, what grapes are used and other important details so the staff can help clients make the best choice."
The winery La Redonda is located in Querétaro state and it has the southernmost vineyards in the North American hemisphere. It is semi-desert with contrasts of heat and cold and little rain. This climate produces wines that are a bit fruitier and have a lower alcohol content while maintaining their body.
Sierra Gorda is one of La Redonda's premium wines, named after the Sierra Gorda mountains in Querétaro. It is aged two years and is made of three grapes, Cabernet, Merlot and Malbec. The barrels are new and the wood is very present in the taste.
The next time you visit Si Señor Beach Restaurant, be sure to ask your waiter about the Mexican wines on their menu.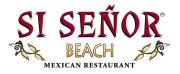 Open daily from 9:00 am to 11:00 pm, Si Señor Mexican Restaurant is located on Los Muertos Beach at Amapas 114, in front of the Hotel Emperador on the South side of Puerto Vallarta. For reservations, call (322) 222-0577, send an email to
Contacto@SiSenor.mx,
or visit
SiSenorBeach.com
.
Click HERE to learn more about Si Señor Beach Restaurant.