Puerto Vallarta, Mexico - No Way José! Restaurant/Bar, award-winning Vallarta favorite, brings you another hilarious spin on a classic TV game show. Come see the Family Feud - Vallarta Edition! Join NWJ! on Saturday, November 2, for their official Season Open Party in benefit of the Banderas Bay Women's Shelter and Corazon de Niña while celebrating a favorite Mexican Holiday: Dia de Los Muertos.
Join four teams of Vallarta local famous and infamous characters:
Team Fabulous: Jim Lee & Sean Carey (Jim Lee Events), Candace Shaw (Cassandra Shaw Jewelry), Kevin Johnson (La Noche), Javier Jimenez (Garbo/Wet Dreams/La Margarita)
The Padrino & The Estrogen Cartel: Sterling O'Ran, Marilyn McPhail, Francine Moore, JoAnn Mucha and April Zalesky
Act II Entertainment: Keeps us in suspense as they always lovingly do. What we know: the team will be made up of characters from past and future shows.
Twisted Bitches: Sue Keevil (PV Sea Dive), Alan Sellers (Twisted Palms), Lori Loree (Escondida Sports Bar), Marie Cohen, Carolyn Unck.
In addition to DJ Mike from Vallarta Weddings spinning and keeping the party vibe at a fever pitch, our MC for the evening comes prepared with a Mexican, Texan, and slightly off-center sense of humor. Vallarta's own Drew Baldridge will keep the contestants in check for the evening while he gives us the real Family Feud deal.
Dress in your best catrina costume! The best catrina will be chosen by popular demand during the evening for fabulous prizes. You will like the prizes. Your friends will all be jealous.
Tickets to this fun-filled event can be purchased at the door for $150 pesos, with all funds raised benefitting Corazon de Niña and the Banderas Bay Women's Shelter. Ticket price includes a welcome drink with food and drink specials all evening.
This Family Feud - Vallarta Edition promises to be epic! Come down to No Way José! on Saturday, November 2nd from 7-11 pm, and be a part of this hysterical evening, all for two great causes!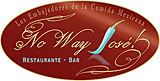 No Way José! is on the south side of downtown at 5 de Febrero 260, just over the Vallarta street bridge on your left heading south from the Malecón. Open Tuesday through Sunday from 3 pm to 11:30 pm, reservations are recommended and available by calling (322) 223-2853 or by emailing Reservations(at)NoWayJoseMx.com. For more information, visit NoWayJoseMx.com, or join us on Facebook for real-time updates and special offers.

Click HERE to learn more about No Way José!