Puerto Vallarta, Mexico - Pizza, one of the world's favorite foods, has been around for hundreds of years. Even though the Italians take credit for this culinary creation, Mexicans have been making their own version for even longer - and it is the iconic dish of Oaxaca.
The Tlayuda is a handmade, traditional Mexican food, which resembles a pizza. It consists of a large, crunchy, partially fried or toasted tortilla, covered with toppings and served with various sides of salsa. This popular snack originated in the state of Oaxaca. Tlayudas are also very popular in the cities of Puebla, Guadalajara, and Mexico City.
Si Señor Beach Mexican Restaurant in Puerto Vallarta has taken this truly Mexican snack to the next level. They are introducing their Pizza Mexicana. This is the only restaurant in Banderas Bay making a unique version of the tlayuda.
The chefs start with a hearty tortilla handmade in a traditional press and brought to a crisp on the grill. This is topped with your choice of salsas, including mole, chipotle/refried beans, poblano cream or a cilantro pesto. There is a wide selection of toppings. You can mix and match chorizo, chicken, tomato, shrimp, flank steak, cabbage, bell peppers, corn, jalepeños, bacon, mushrooms, caramelized onions and caramelized poblanos. This is all smothered with Oaxaca cheese and finished under the broiler.
The Si Señor chefs have also come up with some of their own special combinations, using mole sauce as the base and topping them off with Oaxaca cheese. These include:
• Grilled Chicken, diced and mixed with chipotle salsa
• Shrimp al Pastor, sautéed with onion and pineapple and mixed with pastor sauce
• Michoacán Carnitas, marinated pork in a special blend of spices
• Creamy Poblano, sautéed with garlic, onion and corn in a cream sauce
• Vegetarian, a variety of grilled vegetables, pineapple and papaya
• Octopus, sautéed in butter with guajillo chile, garlic and baby potatoes
Pizza is considered a main dish in countries all around the world, especially when sharing with family and friends. Everyone at Si Señor hopes you will become addicted to the mouth watering Pizza Mexicana served at their beachfront restaurant in Puerto Vallarta, Mexico.
All of the Pizza Mexicana at Si Señor Beach will have distinctive flavors with a little kick. The combinations of flavors will tantalize your taste buds. It's tasty casual food, which you can pick up and eat with your hands. They will be made to order, so they're super fresh. To celebrate this delicious addition to the menu, they are offering one Pizza Mexicana and two beers or two margaritas for only $150 pesos from November 1 to 7, 2013. These can be ordered between noon and 10 pm. If you cannot make it for the special, a Pizza Mexicana can be ordered for $85 pesos. Get your fix today.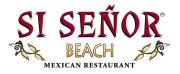 Open daily from 9:00 am to 11:00 pm, Si Señor Mexican Restaurant is located on Los Muertos Beach at Amapas 114, in front of the Hotel Emperador on the South side of Puerto Vallarta. For reservations, call (322) 222-0577, send an email to
Contacto@SiSenor.mx,
or visit
SiSenorBeach.com
.
Click HERE to learn more about Si Señor Beach Restaurant.