Puerto Vallarta, Mexico - Share the holiday spirit with friends, family and a celebration fit for Santa Claus at The Blue Shrimp Restaurant in Puerto Vallarta, Mexico. Treat yourself and your family to a carefree Christmas dinner right on the beach or under the restaurant's large palapa overlooking Banderas Bay.
Located on Los Muertos Beach in the heart of the Romantic Zone, The Blue Shrimp's spectacular beachfront setting offers an unique and extraordinary dining experience that makes every day a holiday - and holiday celebrations more than memorable!
From 5 to 11 pm on Christmas Eve and Christmas Day, the chefs will be serving up the best from the sea for only $650 pesos per person. Here's a look at the menu:
The Blue Shrimp Restaurant Christmas Menu
• New England Style Clam Chowder
• Salad Bar
• Pacific Lobster -OR- Jumbo Shrimp prepared 'your way' and served with vegetables & rice
• Tres Leches (Three Milk Cake) -OR- Flan
• One Glass of Wine
You may also order off of the regular menu, so gather your friends and family together for a memorable evening on Los Muertos Beach - and a Shrimply Delicious Christmas dinner! Reservations are recommended, and can be made by calling (322) 222-4246.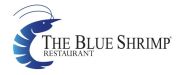 Open for breakfast, lunch, dinner or snacks and cocktails from 9 am until 11:30 pm, The Blue Shrimp is situated on Los Muertos Beach at Olas Altas 366 on the South side of Puerto Vallarta. For more information or reservations, call (322) 222-4246, email TheBlueShrimp12@hotmail.com or visit TheBlueShrimp.com. Click HERE to learn more about The Blue Shrimp