US and Mexican officials held a high level meeting last week to discuss a plan to build the first-ever high speed passenger railroad line connecting both countries by 2018.
The proposed high-speed train would take passengers from San Antonio, Texas, to Monterrey, Mexico through the US border city of Laredo in less than two hours.
San Antonio and Monterrey are about 300 miles apart, roughly 5 hours' driving distance. Under the proposed plan, passengers would be able to travel quickly between both nations thanks to pre-clearance immigration and customs checks, so the train wouldn't have to stop at the border.
US Congressman Henry Cuellar, a Texas Democrat, and Texas Department of Transportation Commissioner Jeff Austin, as well as Mexican officials, presented the plan to US Secretary of Transportation Anthony Foxx on last Thursday in Washington DC.
"Secretary Foxx and his team are interested," Cuellar said. "A high-speed rail between San Antonio and Monterrey through Laredo would revolutionize trade and travel between the United States and Mexico."
The project is planned as a joint effort by both nations. But the timeline remains somewhat murky. Both countries are optimistic the project will get done, but the effort seems to be taking a more immediate priority south of the border.
Mexican officials told Fox News Latino they have already received the go-ahead and funding is lined up from the federal government and the state of Nuevo Leon. Mexico estimates its share of the cost for the project will be around $1.5 billion, with construction slated to begin as early the first half of 2015 and completed by 2018.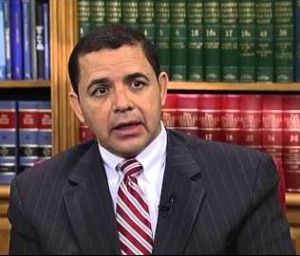 US Congressman Henry Cuellar
Both Rep. Cuellar and Mexican officials expect the project to be mostly funded through private enterprise.
Marco Antonio Gonzalez Valdez, a congressman from Nuevo León, said new railway reforms proposed by Mexican President Enrique Pena Nieto are expected to pass Congress in the coming months and will open the country's railroad industry to private investment.
But while Mexico is primed and ready to build, the United States is still in a study phase of the project.
The idea for the international railway sprung from an initial Texas Department of Transportation 850-mile study started in September of 2012, scheduled to be completed in December 2014. The study initially looked into building a high-speed rail between Oklahoma City and South Texas but has been expanded to include a separate extension of the railway from San Antonio to Monterrey, Mexico.
"The study costs $5.6 million dollars, and an additional $400,000 would allow us to extend the study to Monterrey. Once we have route selection then we will begin talking to the private sector," Texas transportation commissioner Jeff Austin said. "We are hoping to get this started by 2015."
Officials noted current railroads in South Texas will most likely not support high speed trains and entirely new infrastructure for high speed would need to be put in place.
A high speed link between San Antonio and Monterrey, proponents said, would be an economic boost to both sides of the border. Mexico was the second-largest goods export market to the US in 2012 and is currently its third-largest goods trading partner.
Monterrey is Mexico's third-largest city and is considered the most important financial, educational, and industrial center in the country. According to Rolando Zubiran, the state's deputy minister for foreign investment, 80 percent of US Mexican economic activity passes through Monterrey.
But there are some security and safety questions for potential passengers on the high-speed rail, as Mexico continues to fight drug cartels.
"It will be a non-stop train," said Jorge Domene Zambrano, Governor's Executive office Chief of Staff, in response to concerns about a train traveling high speeds through a region still mired in a drug war.
"The only real obstacle we can see to this project is the American study," said Gonzalez. "The project does not begin until the study is complete."
Original Story