Puerto Vallarta, Mexico - Dress to impress and head on over to Tu Casa in Vallarta on Wednesday, March 12 for an exclusive dinner/show starring the international dreamboat Spencer Day! For just $650 pesos, you'll enjoy a No Way José! award-winning 3-course meal and an up-close-and-personal performance by one of the world's most beloved crooners.
Originating from humble beginnings in a small town in Utah, Spencer Day is a contemporary singer and songwriter who began his career singing and playing jazz standards in piano bars and retirement homes. "I was probably three or four years into that when I realized that I needed to write as well," he says. That's when things kicked into high gear.
Since then, Spencer has been a much requested headliner in a number of high-profile west coast music venues, including Yoshi's, the Plush Room, the Great American Music Hall, Herbst Theatre, Monterey Jazz Festival, Tanglewood Jazz Festival and the Hollywood Bowl.
On the east coast, he has earned raves for performances at the Town Hall, Joe's Pub, the Canal Room in New York City, and the Kennedy Center in Washington, DC. He has also headlined internationally in England, Japan, Australia, Indonesia and Mexico.
Spencer's versatility and love for his fans allows him to feel comfortable in a small jazz venue or in the expansive spaces of the Hollywood Bowl. As he puts it, "As I grow as a musician, I hope to continue paying homage to the great artists who have shaped my style and sensibilities. I want to create music that is smooth and sophisticated but teeming with raw emotion and fire under the surface. It's in life's contradictions that the most beautiful things are created."
Over the years, as his popularity has soared, Spencer has released four albums: Introducing Spencer Day in 2004, and Movie of Your Life in 2005. These early albums were followed by the acclaimed Vagabond in 2009, and The Mystery of You in 2013.
If you missed Spencer when he was in Puerto Vallarta in January, don't wait another minute. His energy shines through in every song. Click HERE for a little taste of what he has in store for you at Tu Casa in Vallarta - No Way José!
Dinner at 7 pm, Show at 8 pm. Get your tickets NOW to what promises to be the most exciting No Way José! event of the season. You will be oh-so-glad you did!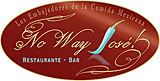 No Way José! is on the south side of downtown at 5 de Febrero 260, just over the Vallarta street bridge on your left heading south from the Malecón. Open daily from 3 pm to 11:00 pm, reservations are recommended and available by calling (322) 223-2853 or by emailing Reservations(at)NoWayJoseMx.com. For more information, visit NoWayJoseMx.com, or join us on Facebook for real-time updates and special offers.

Click HERE to learn more about No Way José!