Geneva, Switzerland - The World Meteorological Organization's (WMO) hurricane committee recently announced that the names Ingrid and Manuel, the two storms that caused death and destruction in Mexico last year, and will no longer be used in future hurricane seasons of the Atlantic and the North Pacific oceans.
The name Ingrid will be replaced with "Imelda" on the Atlantic hurricane list and Manuel with "Mario" on the Pacific list when the 2013 lists are reused in 2019. Storm names are recycled every six years for both the Atlantic and northeastern Pacific basins, unless retired to avoid confusion if a hurricane causes significant damage or deaths.
While Ingrid and Manuel did not pack a major punch with wind or storm surge, they did cause a large amount of deaths and damage from flash flooding and mudslides in Mexico. Ingrid caused 32 deaths, mostly in eastern Mexico, while Manuel resulted in more than 123 deaths, primarily in western Mexico.
Manuel made its first landfall as a strong tropical storm near Manzanillo and Colima, Mexico on September 15th, after moving northwestward near the Pacific coast of Mexico for a couple of days. Over 15 inches of rain fell in Acapulco from Manuel before the observation site stopped reporting.
After causing severe flood damage and cutting off road access in west-central Mexico, the tropical storm then moved back over water and reorganized. Manuel continued its northwesterly path, eventually reached Category 1 hurricane status in the Gulf of California, and made its final landfall about 140 miles north of Mazatlán (just west of Culiacán) on September 19th.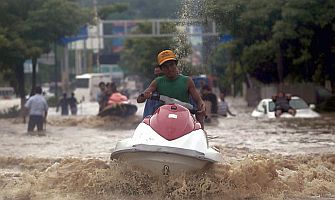 A man on a jet ski helps residents to leave the flooded area in Acapulco. Thousands of people were evacuated on both sides of Mexico as Manuel and Ingrid set off floods and landslides that damaged bridges, roads, and homes.
Manuel was the first northeastern Pacific tropical storm since records began in 1949 to make landfall in mainland Mexico, redevelop over water, and go on to become a hurricane.
On September 14th, tropical storm Ingrid reached category 1 hurricane status over the southwestern Gulf of Mexico. After initially moving westward toward Veracruz, the storm turned more to the northwest and made landfall as a tropical storm just south of La Pesca, Tamaulipas in northeastern Mexico. The heavy rains from Ingrid forced 23,000 people to leave their homes in the Mexican state of Veracruz. At least 12 people were killed by a landslide that hit a bus traveling near the town of Altotonga
More than 150 people were killed due to the combined impacts of the two storms striking Mexico within a 24 hour period. The storms produced over 5,700 cubic feet of water - the equivalent of filling every dam in Mexico. Rainfall from the storm peaked at 20.1 inches in Tuxpan, Veracruz. The rains caused widespread flooding, damaging at least 14,000 houses and hundreds of roads and bridges, resulting in more than $5.7 billion in damage.
Manuel is the 11th name ever to be removed from the eastern North Pacific list and the first since "Alma" in 2008. In comparison, Ingrid is the 78th name to be retired from the Atlantic list.
Source: Weather.com