Puerto Vallarta, Jalisco Mexico - Stunning Banderas Bay views, the crash of the waves along the shore, and a décor designed to take advantage of the area's natural beauty is complemented by nautical antiques at The Blue Shrimp restaurant. It is all a delight for the eyes, as well as the palate.
Vallarta Restaurant Week, which runs May 15th through the 31st, lets you indulge in the flavorful creations of Chef de Cuisine Marco Antonio Lepe, who artfully blends the freshest catch with innovative touches.
Marco was born and raised in Puerto Vallarta. He worked his way up through the ranks at The Blue Shrimp since he began working there in 2002. Since then, he has pursued his love for food by developing unique recipes and continues the restaurant's commitment to quality.
Vallarta Restaurant Week at The Blue Shrimp offers three courses for $299 pesos and there are choices for each course. Dinner is served from 5 to 11 pm. Dive into their menu, with your choice from each of the following 'Shrimply Delicious' courses:
Appetizers & Salads
• Creamy Clam Chowder
• Salad Bar
• Roman Sepia Calamari
Main Courses
• Shrimp Your Way - A half pound served with steamed vegetables and mashed potatoes
• Three-Chili Fish Fillet - Served with steamed vegetables and mashed potatoes
• Chicken Breast Parmesan topped with pomodoro sauce and served over spaghetti
Desserts
• Lemon Pie
• Chocolate Brownie with jalapeño jam
• Corn Pie
The Blue Shrimp receives fresh seafood everyday, so now is a great time to take advantage of the special menu pricing along with a fabulous sunset.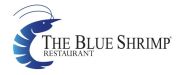 Open for breakfast, lunch, dinner or snacks and cocktails from 9 am until 11:30 pm, The Blue Shrimp is situated on Los Muertos Beach at Olas Altas 366 on the South side of Puerto Vallarta. For more information or reservations, call (322) 222-4246, email TheBlueShrimp12@hotmail.com or visit TheBlueShrimp.com. Click HERE to learn more about The Blue Shrimp