Puerto Vallarta, Mexico - Celebrate the cuisine of Mexico all summer at Si Señor Beach Restaurant. You will receive three courses for $199 pesos and there are choices for each course. The flavors of Oaxaca will be featured June 14 to 30, 2014. Executive Chef Victor Manuel Castaneda Romero adds his creative style to every plate.
Flavors of Oaxaca Menu
Starters
• Banana leaf-wrapped Tamale stuffed with chicken and mole
• Creamy Black Bean Soup
• Quesadilla filled with Oaxaca cheese and squash blossoms
Entrées
• Chicken breast smothered in mole poblano sauce
• White fish filet stuffed with Oaxaca cheese and pickled jalapeños and carrots
• Chile Relleno filled with huitlacoche, corn and Oaxaca cheese and drenched in creamy corn and epazote sauce
Desserts
• Coffee Mousse
• Chocolate Pie
• Mezcal & Guanábana Sorbet
There is also a complimentary shot of mezcal to complete your Oaxacan dining experience.
You can enjoy this menu from 1-10 pm daily. The regular a la carte menu is also available.
Here are some brief explanations of the star ingredients, in case you are not familiar.
Mole sauces typically have a myriad of ingredients and are made by toasting and grinding spices, seeds, and chiles, then simmered for many hours.
Huitlacoche, also known as corn smut is a fungus that grows on ears of corn. It has an earthy, mushroomy flavor that is a delicacy and has limited availability.
Oaxaca cheese is a white, semi-hard cheese similar to Monterey Jack but with a mozzarella-like string cheese texture. It is named after the state of Oaxaca in southern Mexico, where it was first made.
Epazote is a pungent herb similar in flavor to fennel or tarragon but stronger.
Guanábana or soursop is a green nubby fruit with a taste described as a combination of citrus and pineapple with a creamy texture.
Mezcal is an alcoholic beverage made from the maguey plant, which is a form of agave. Tequila is made from agave. It has been made in Oaxaca since the 1500s.
Oaxacan food can best be described as subtle, rich and layered. It is distinguished by the strong presence of pre-Hispanic elements mixed with ingredients introduced by the Spanish.
Discover what Oaxacan food is all about at Si Señor Beach Restaurant.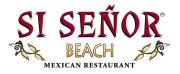 Open daily from 9:00 am to 11:00 pm, Si Señor Mexican Restaurant is located on Los Muertos Beach at Amapas 114, in front of the Hotel Emperador on the South side of Puerto Vallarta. For reservations, call (322) 222-0577, send an email to
SiSenorBeach(at)gmail.com,
or visit
SiSenorBeach.com
.
Click HERE to learn more about Si Señor Beach Restaurant.