Puerto Vallarta, Mexico - Mexico's cuisine is as diverse as the country itself. The state of Puebla is no exception. It is located southeast of the Federal District/Mexico City in central Mexico. Traditional foods have been influenced by pre-Hispanics, Spaniards, the French and some touches of Lebanon. The combination of spices and cooking techniques has made Puebla a culinary destination for many visitors.
Celebrate the cuisine of Mexico all summer at Si Señor Beach Restaurant. You will receive three courses for $199 pesos and there are choices for each course. The flavors of Puebla will be featured July 7 to 27, 2014. Executive Chef Victor Manuel Castaneda Romero has put together a unique and diverse set of recipes.
Flavors of Puebla Menu
Starters
• Chalupas, small tortillas topped with shredded chicken, tomatoes, onions and red sauce
• Tamales stuffed with chicken, pork and poblano pepper
• Pelliscada, a large, super thick tortilla topped with refried beans, lettuce, crumbled cheese and chile sauce
Entrées
• Mixiote, marinated pork slow cooked and wrapped in parchment, served with onions, limes, cilantro and tortillas
• Chile en Nogada, poblano pepper stuffed with ground beef, nuts and dried fruit and topped with creamy walnut sauce
• Chicken Breast smothered in mole poblano sauce and served with seasoned rice and refried beans
Desserts
• Crepe with caramel sauce and heavy whipped cream
• Cocada Envinada served with a Rompope Shot
• Jericalla, thick vanilla and cinnamon pudding
Enjoy this menu from 1 to 10 pm everyday. The regular a la carte menu is also available.
Here are some additional menu details:
Chalupas are typical street food which consist of a fried tortilla garnished with pulled meat, onions and covered with green or red sauce and sprinkled with white cheese.
Tamales are made from masa and can be filled with a variety of ingredients, they are typically wrapped in corn husks or banana leaves and steamed or boiled. One of the world's first portable foods.
Mixiote is an Aztec term that refers to the parchment-like film that comes from the maguey leaves and the dish is prepared by wrapping the meat in it and then pit roasting or steaming. The leaves are no longer available because their use has been outlawed because of over use. Baking parchment is used now. The key to this dish is the marinade which is typically aromatic chiles, thyme, marjoram, bay leaves, oranges, garlic and other ingredients, it depends on the cook. The meat is incredibly tender.
Chile en Nogada is a tribute to the fruits of Puebla. This rich, savory-sweet entrée features a Poblano chile pepper stuffed with picadillo. Ground or chopped pork, beef, or lamb cooked with locally grown apples, pears, and peaches. The chile is then dipped in an egg batter, deep-fried, and finished with a walnut cream sauce, parsley leaves, and pomegranate seeds. The white, green, and red toppings represent the colors of the Mexican flag.
Mole sauces typically have a myriad of ingredients and are made by toasting and grinding spices, seeds, and chiles, then simmered for many hours.
Cocada Envinada is a super dense coconut cake. It is almost like candy.
Rompope is an eggnog-like drink made with eggs, milk, and vanilla. The egg yolks impart a yellow hue to the emulsified beverage.
The best way to describe jericalla is that it is flan with lots of milk, eggs and sugar. It is similar to creme brulee with a slightly curdled texture.
This menu has an impressive array of deliciousness and traditional flavors. Discover what Puebla's food is all about at Si Señor Beach Restaurant in Puerto Vallarta, Mexico.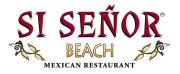 Open daily from 9:00 am to 11:00 pm, Si Señor Mexican Restaurant is located on Los Muertos Beach at Amapas 114, in front of the Hotel Emperador on the South side of Puerto Vallarta. For reservations, call (322) 222-0577, send an email to
SiSenorBeach(at)gmail.com,
or visit
SiSenorBeach.com
.
Click HERE to learn more about Si Señor Beach Restaurant.