Sonora, Mexico - An acid spill from a large copper mine in northern Mexico is keeping 88 schools closed due to uncertainty over the safety of drinking water. The 12-day-old spill, which sent 10 million gallons of toxic wastewater into portions of the Bacanuchi and Sonora rivers, may keep schools closed for over a week.
The Buenavista copper mine, one of the largest copper mines in the world, is located in Cananea, Sonora, about 25 miles south of the US border near Nogales, Arizona. The mine is operated by Grupo Mexico, one of the world's largest copper producers.
Grupo Mexico's American subsidiary, Asarco, is nearing a deal to gain full ownership of the Silver Bell copper mine across the US border in Marana, Arizona and has been subject to major environmental misconduct charges in the past relating to its mining operations.
Mine officials have been criticized for not reporting the massive acid spill to authorities for around 24 hours, with residents downstream detecting the spill the next day as it turned dozens of miles of river orange. According to Carlos Arias, director of civil defense for the northern state of Sonora, the spill was caused by defects in a new holding pond, where overflow from acids used to leach metal out of the crushed rock is stored. Arias said a pipe either blew out or lost its positioning on August 7th, sending the sulfuric acid downstream.
So far the company has denied rumors that the wastewater included trace amounts of cyanide believed to have been used in the copper mining at Buenavista. However last week a different mine in northern Mexico spilled over a half million gallons of a cyanide solution used in gold mining, contaminating less than a square mile.
Both spills have been at least partially attributed to heavy rains in the area that taxed the overflow ponds' capacities.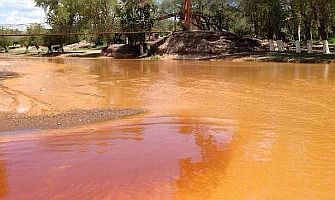 The massive acid spill from the Buenavista copper mine turned dozens of miles of the Bacanuchi river orange.
Arturo Rodriguez, the head of industrial inspection for the Attorney General for Environmental Protection, was quoted as saying that "lax supervision at the mine, along with rains and construction defects, appeared to have caused the spill," and that "mine operators should have been able to detect the leak before such a large quantity leaked into the river."
Juan Rebolledo, Grupo Mexico's vice president for international relations, tried to downplay the impact of the spill, saying that "the content of these acids is not toxic in itself," and that "there's no problem, nor any serious consequence for the population, as long as we take adequate precautions and the company pours lime into the river, as it is currently doing."
Officials have distributed more than one million gallons of drinking water over the last week via tanker trucks, reaching more than three-fourths of the people in the contaminated region. However the rest who live in isolated communities have not yet been supplied with clean water.
Residents said they received no warning before officials cut off their water, and still don't know the extent or timeline for cleanup of the spill.
"We're angry because they didn't take the time to tell us either that the spill had happened or that they were cutting off our water," said 70-year-old resident Israel Duran. "Even if the mine creates jobs, it would be better if they closed it if they're going to behave like this every time something happens."
Authorities restricted water supply to Sonora state's capital Hermosillo, which has a population of about 800,000 people, however only a small portion of the city's water supply comes from the contaminated flow.
Fish and livestock that depend on the contaminated water supply are also at risk and cannot be trusted as food sources without proper precautions.
Asarco, which was acquired by Grupo Mexico in 1999, paid the US government $1.79 billion to settle claims for hazardous waste pollution across 19 states in 2009. The settlement money has been used to clean up and restore at least 26 contaminated sites. At least 10.5 million cubic yards of contaminated soil and at least five million cubic yards of contaminated ground water, enough to fill over 1,500 Olympic size swimming pools, will be cleaned up according to the EPA.
Original Story