Puerto Vallarta, Mexico - "The dynamics of social mobilization for employment purposes; primarily in the communities of a tourist economy like Puerto Vallarta and the municipalities that make up the Costa Alegre, make those who are diagnosed with HIV-AIDS more vulnerable," said Francisco Arjona, the Director of the Ed Thomas Community Center (SETAC) in Puerto Vallarta.
The SETAC non-profit association is dedicated to the implementation of HIV testing, the delivery of preventive devices such as condoms and lubricants, as well as the care of people living with HIV. The center discovered that many of the detected cases were people moving to Puerto Vallarta to work, but once they concluded their jobs and moved elsewhere it was difficult to locate these individuals. This makes it very hard for them to continue with their HIV/AIDS medical care and to maintain their connections with the health institutions in the area that are responsible for treating the disease.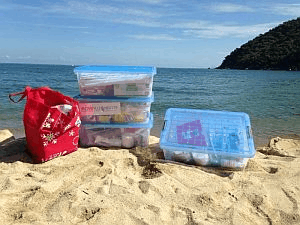 "The majority of the population in Vallarta is 'floating,' that is to say people work on a seasonal basis or they come to work in construction, but after certain place closes or the work stops these people are not seen again, and our goal/project is to find this population. Therefore we initiated this project to find these people and help them re-establish their connections with important medical services," he said.
Arjona suggested that people in which HIV or another sexually transmitted disease has been detected may not be receiving medical care because they may not be aware that they have the disease, or they may be going through denial, and explained that the key here is early and timely detection to prevent complications and dissemination of the same.
The "Movihilizándote de la Costa a la Bahía, Brigadas por la Vida" (Costa a la Bahía Mobilization, Brigades for Life) project has so far implemented 36 Brigades for Life in different communities in the municipalities of Puerto Vallarta, Cihuatlán and Tomatlán in Jalisco, and the Banderas Bay area in Nayarit with the following results:
Total brigades: 36
Total tests applied: 1259
Reactives: 20 - Males 17, Females 3
Referrals for Sexually Transmitted Infections: 8
Referrals for Seguro Popular (insurance): 17
People identified with a previous diagnosis of HIV, but without medical care: 8
For a list of locations visited during the first phase of the project, visit the official website of "Movihlizándote" at movihlizándote.com.
The project continues until November, with the number of scheduled brigades almost equal to the number of brigades held during the previous period.
"The fight must be constant, ever-present, we must create a culture of prevention, and this is why SETAC continues to do the work we do," declared SETAC Director, Paco Arjona.
---

The purpose of the SETAC Community Center, located at Constitucion #427 and the corner of Manuel Dieguez on the South side of Puerto Vallarta, is to provide essential services to the community, including physical and mental health treatment, referrals, and education in an atmosphere of safety, free from discrimination. For more information, contact Paco Arjona at (322) 224-1974 or
paco(at)setac.com.mx.
Click HERE to learn more about Centro Comunitario SETAC.