Mexico City, Mexico — Perceptions that Mexican President Enrique Peña Nieto rewarded friends with a share of a multi-billion-dollar high-speed rail contract won by a Chinese-led consortium has led to a stunning decision by Mexico to scrap the deal and start over with new bidding.
The move rocked Mexico's relations with China on the eve of a visit there by Peña Nieto and caused the stock price of China Railway Construction to plunge 5.8 percent Friday on the Hong Kong stock exchange. Peña Nieto left on Sunday for Beijing for a summit of Asian Pacific leaders and a state visit with his Chinese counterpart. He will then travel on to Australia for a G20 summit of global economic powers.
State-owned China Railway Construction, the world's largest construction contractor, had allied with four Mexican companies, three of which are owned by friends or allies of Peña Nieto, for the award to build a 150-mile high-speed rail link between Mexico City and Querétaro, a booming center of the aerospace industry.
The project would cost an estimated $4.3 billion, which includes the construction and five years of operations. The proposal came with a 20-year, China government-backed credit to cover most of the project's value, at interest rates below those available even to Mexico's government.
The China Railway consortium was the sole bidder. Other potential bidders complained of favoritism and said the time allowed to prepare bids was far too short.
Secretary of Transportation and Communications Gerardo Ruiz Esparza announced the decision to cancel the contract late last Thursday night. On Friday, he told Mexico's Radio Fórmula that the bidding was done legally but that Peña Nieto "is very sensitive right now that there is absolute clarity about the government of China's first investment in Mexico."
Opposition senators had lambasted Ruiz Esparza hours before the cancellation for what they said was a bidding process that appeared designed to discourage competitors and favor the Chinese-led consortium.
"It appears that a multimillion-dollar project was rigged," Senator Javier Corral, of the center-right National Action Party, told Ruiz Esparza during a Senate hearing Thursday. He charged that the consortium had access to information that "placed all other bidders at a disadvantage" and they were "forced to withdraw from the competition."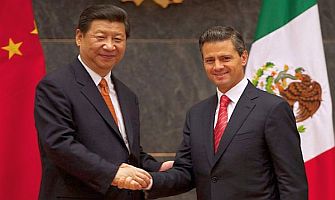 Since Pena Nieto took office in late 2012, he has tried to forge closer ties with China after years of rivalry between the two countries seeking to supply the US market.
One of the companies in the consortium, Constructora Teya, is headed by a Peña Nieto friend, Juan Armando Hinojosa, and is part of a business concern, Grupo Higa, that won hundreds of millions of dollars worth of bids when Peña Nieto was governor of the state of Mexico from 2005 to 2011. A second company, Prodemex, also won major deals in the state during Peña Nieto's governorship.
A third company, Constructora y Edificadora, belongs to another prominent Mexican, Hipólito Gerard, the brother-in-law of former President Carlos Salinas de Gortari. Many Mexicans believe Salinas is a patron of Peña Nieto.
Senator Corral told Ruiz Esparza that the government could face potential social upheaval over the appearance of giving contracts "to favor friends or companies close to the ruling party or the president."
Among the 16 companies that declined to present bids on the high-speed rail project were Japan's Mitsubishi, France's Alstom, Canada's Bombardier and Germany's Siemens. A banking adviser to another major company, who spoke on condition of anonymity because of the sensitivity of the matter, said the firm received multiple indications that the bid was rigged and decided against going forward.
Some analysts applauded the government for backtracking on the award.
"I think it's a brave and positive decision," said Juan Pardines, head of the "Mexican Council on Competitiveness," a think tank in the capital.
Pardines noted that Peña Nieto first promised to build the high-speed rail link, which would take up to 27,000 passengers a day once in operation, in his inaugural speech in December 2012. Since then, the government has rushed to bring the project to fruition before Peña Nieto's term ends in 2018.
"All the bureaucracy was focused on doing the train, no matter what," Pardines said. "A project in which you are investing $50 billion pesos, I think it shouldn't be done in a hurry."
The high-speed train project is expected to take three and a half years to complete. The rail will take passengers at speeds of about 185 mph and make the trip between the two cities in 58 minutes.
Ruiz Esparza said the bidding process would begin again, probably by the end of November, and this time would remain open for six months.
He said under the terms of the bidding, the Mexican government may need to offer compensation to China Railway Construction for rescinding the bid. He did not specify how much. He said the Chinese concern would be welcome to enter a new bid.
Original Story