Puerto Vallarta, Mexico - Known as the most varied, leisurely and decadent meals of the week, brunch with family and friends is a great way to enjoy gourmet food on a laid-back weekend. Anything goes at this not-quite-breakfast and not-quite-lunch event.
This year, Si Señor Beach Restaurant on Puerto Vallarta's famous Playa Los Muertos is serving a delicious Mexican-style brunch every Saturday and Sunday from 9 am to 1 pm. For only $130 pesos per person (half-price for children), you can nosh away in the restaurant's formal dining room. If you prefer to sit at a table with your toes in the sand, or kick back in a chaise lounge, there are plenty of umbrellas on our stretch of beach to keep you cool.
Executive Chef Victor Manuel Castaneda Romero has assembled a divine blend of savory, authentic Mexican dishes, traditional breakfast foods, and sweet treats. Give yourself plenty of time to linger over French toast topped with fresh fruits, have a hearty starter of eggs any style with a potato and chorizo mix, sip a mimosa, or dive into a plate of ribs.
Si Señor Beach Weekend Brunch Menu
• Beef Menudo
• Beef Birria
• Pork Chicharrón in Salsa Verde
• Hot Cakes
• French Toast
• Sautéed Poblano Strips in Cream Sauce
• Fried Potatoes with Chorizo
• Shredded Mexican Beef Stew
• Ribs in Red Sauce
• Chicken in Ranchero Sauce
• Eggs Any Style
• Mixed Green Salad
• Tropical Fish Ceviche
• House Baked Gourmet Cookies
• Seasonal Fresh Fruit
• Yogurt & Cottage Cheese
In addition to the Weekend Brunch line up, a variety of special dishes are created each week.
This is not your basic brunch, but a sit-down affair involving some menu items that can't be ordered at any other time during the week. It's about enjoying delicious food and refreshing drinks in a casual chic and relaxed atmosphere.
There's nothing like sitting on the beach and watching the day get started. Once you have experienced it, this awesome weekend meal becomes less of a treat and more of a necessity. The restaurant's attentive service, casually elegant atmosphere, and most importantly, fabulous food that is always on point, makes brunch at Si Señor Beach a feast to remember.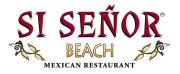 Open daily from 9:00 am to 11:00 pm, Si Señor Mexican Restaurant is located on Los Muertos Beach at Amapas 114, in front of the Hotel Emperador on the South side of Puerto Vallarta. For reservations, call (322) 222-0577, send an email to
SiSenorBeach(at)gmail.com,
or visit
SiSenorBeach.com
.
Click HERE to learn more about Si Señor Beach Restaurant.