Puerto Vallarta, Mexico - What better way to celebrate Valentine's Day than to enjoy an intimate evening of wining, dining and romance at Tu Casa en Vallarta? No Way José! has the perfect menu, atmosphere - and attitude - to help you show your love.
In fact, Valentine's Day ranks as our favorite holiday. There's so much love in the house, that you can't help but float out at the end of the evening.
Treat your loved one to great food, great cocktails, great live musical entertainment, La Cocina de Amor, and one of the most charming service teams in Puerto Vallarta. Over the years, we've had the privilege of being the restaurant of choice for marriage proposals and new love found. We can hardly wait to see what this year will bring!
Celebrate Valentine's Day with us on Saturday, February 14th. For just $499 pesos, you'll enjoy an aphrodisiacal 3-course meal that includes:
First Course
Your choice of:
• Soup - My First Time - cream of asparagus presented in a ruby red apple. "Asparagus stirs up lust in man and woman."
• Salad - Julia's Miracle - red roses, bugambilia, sunflowers, and arugula tossed in a red berry vinaigrette. "St. Valentine's first miracle was restoring the sight of a woman named Julia."
Second Course
Your choice of:
• Prince Charming - Red Snapper filet with a creamy pomegranate sauce. "The pomegranate owes its passion power to antioxidants, which protect the lining of blood vessels allowing more blood to course through them. The upshot? Increased sensitivity in those important places!"
• My True Love - Thick cut pork chop with black currant glaze. "Black currant is indeed an aphrodisiac, and should be consumed with great care."
Desserts
Your choice of:
• Juno's Brownie - Chocolate and peanut butter brownie with vanilla ice cream and a red berry sauce. "The Roman Goddess Juno Februata, was celebrated as the goddess of the "fever" of love and fertility."
• Sparrow's Heart - White chocolate mousse with raspberry glaze and toasted coconut. St. Valentine advised lovers that "all birds seek a mate with whom to fly with all their lives. As such, men of God look for their loves with whom to be together forever."
Make your reservation now by clicking HERE. By entering "I want some No Way José! love for Valentine's Day" in the Comments section of your reservation you'll be eligible to win a bottle of wine to enjoy that evening. Your server will let you know whether you are a lucky winner that evening; of the wine, that is!
No Way José! proudly supports the Banderas Bay Women's Shelter, a project of Compassion for the Family in Puerto Vallarta. At every meal you eat at No Way José!, you have a chance to donate to this very worthy organization. The change from your bill can change a life! Remember to tell your server to "round it up for the Banderas Bay Women's Shelter" and 100% of your pesos go directly to the cause. Click HERE to learn more about how you can help.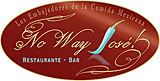 No Way José! is on the south side of downtown at 5 de Febrero 260, just over the Vallarta street bridge on your left heading south from the Malecón. Open daily from 3 pm to 11:00 pm, reservations are recommended and available by calling (322) 223-2853 or by emailing
Reservations(at)NoWayJoseMx.com.
For more information, visit
NoWayJoseMx.com,
or
join us on Facebook
for real-time updates and special offers.
Click HERE to learn more about No Way José!