Puerto Vallarta, Mexico - The romantic festival of St Valentine's Day is celebrated with enthusiasm and sentimentality in many countries around the world, including Mexico. The most common tradition and custom for expressing one's love is with an exchange of cards, flowers and gifts.
Pampering one's beloved and making a romantic proposal to one's sweetheart is the other popular tradition of the festival that celebrates love.
Spend a special evening with your sweetheart at Sí Señor Beach Restaurant in Puerto Vallarta. Executive Chef Victor Manuel Castaneda Romero has composed a menu for you to share with your loved one, either on the beach with your toes in the sand or in the casually chic dining room.
Valentine's Day Menu at Sí Señor Beach
Starter - Citrus Salad with walnuts, apples, pears, goat cheese and topped with passion fruit dressing
Entrée to Share - Duo of beef tenderloin medallions and jumbo shrimp with red rose and Grand Marnier sauce served with curry risotto and sautéed green beans and carrots
Dessert - Black and White Chocolate Symphony Parfait
Plus - One glass of sparkling wine per person
All of this for just $950 pesos per couple, so make plans now to treat your loved one to a spectacular dinner and a splendid Valentine's Day celebration at Sí Señor Beach.
It is a good idea to make reservations so you can secure a specific table and time. Sunset will be at 7 pm on Valentine's Day, so call (322) 222-0577 to reserve your romantic sunset dinner at Sí Señor Beach Restaurant TODAY!
In the mood for some 'Shrimply Delicious' seafood? Click HERE to check out the Valentine's Day menu at The Blue Shrimp.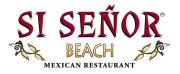 Open daily from 9:00 am to 11:00 pm, Si Señor Mexican Restaurant is located on Los Muertos Beach at Amapas 114, in front of the Hotel Emperador on the South side of Puerto Vallarta. For reservations, call (322) 222-0577, send an email to
SiSenorBeach(at)gmail.com,
or visit
SiSenorBeach.com
.
Click HERE to learn more about Si Señor Beach Restaurant.