El Tuito, Jalisco, Mexico - When Tino Carbajal was a young man struggling to launch his own restaurant, he and his wife, Juana did all of the cooking "con amor y cariño" (with love and tenderness). But poor as they were, he would occasionally come across a very small piece of extra meat in the kitchen and he would put it carefully aside and say to himself, "We will eat this meat on Sunday."
Tino comes from a
campesino
(farming) family in Nayarit where poverty was the predictable baseline of existence. Tino became an exception to the endless cycle of marginal subsistence in rural Mexico. Not through instruction but through "practica," he taught himself how to cook.
His first small restaurant ("El Pescador") opened 41 years ago in Bucerías, followed by the renowned Tino's Mariscos Pitillal. The Pitillal location was a simple restaurant in Vallarta's largest working class district but the business prospered because Tino and his wife made sure that the food was memorable. The "sopa de mariscos" became famous and drew people of all origins and income levels from throughout the Banderas Bay region.
Having been closed for about four years, the original Mariscos Tino's in Pitillal is once again open, now managed by Tino's son, Jorge, with help from other members of the Carbajal family, including Carlos, a chef, and Aida, who works in the group's Vallarta offices. Jorge also manages Tino's Puerto Vallarta, a second floor restaurant located on the north edge of the Malecón.
La Laguna
A lot of new arrivals to Banderas Bay first hear the name "Tino" in connection with the La Laguna restaurant in Nuevo Vallarta close to the entrance to the El Tigre development. The favorite dish since La Laguna opened in 1999 has always been the "Huachinango Sarandeado." It is a filet of red snapper cooked on wooden sticks propped over charcoal with plenty of spices including achiote which gives the dish its characteristic vivid red color and rich taste.
Typical of Tino, he developed the dish by diligently studying various traditional recipes in Vallarta's neighboring state of Nayarit where Sarandeado is a part of part of the area's native cuisine. Again, his success required Tino's formula of "amor y cariño." He practiced making the dish in his own kitchen until he got it right. Now he says his reward is in the client's satisfaction, "el aplauso del cliente."
La Hacienda del Divisadero
I got to know Tino through his wonderful restaurant near El Tuito, called "La Hacienda de La Divisadero" which means the lookout point. It has what may be the least likely location for the value received.
First, you take the beautiful one hour drive on Highway 200 from Vallarta to El Tuito, a charming town in the mountains due south of Vallarta. Arriving at El Tuito, you turn right at the Pemex station which brings you into El Tuito on Pablo Rios (see map). No turns. This route will put you on the Road to Chacala.
Ten minutes out of El Tuito on the Chacala Road, you will see a sign on the right for the Divisadero. The road to the Hacienda is quite passable but you will soon begin to question if there could really be an oasis of civilization ahead.
You pass by irregular fields of dense six foot corn. As the mountains rise above the valley plantings, the natural forest is still close at hand. The crops below seem to have planted themselves - the landscape seems emptied of human presence.
Then you are suddenly there at the Hacienda.
There is a large open courtyard guarded by an enormous parota tree barren of leaves during the winter season. The spacious table and seating areas are surrounded by open air views of the countryside. Deer appear in the evenings. On the walls are old prints of Villa and Zapata.
Divisadero Tours
Optional tours at Divisadero include a visit to the raicilla distillery and guided walking tours through the agave plantation where you can see the agave being harvested for raicilla production. There are 20 horses at the ranch for anyone who wants a country ride - perhaps to see nearby petroglyphs with their mysterious, ancient & undeciphered designs.
After your tour: The cuisine at Divisadero is authentic, traditional Mexican fare. There is a choice of hearty dishes like lamb stew or the "parillada," a generous mixed grill of many of the favorite dishes at the Hacienda. Tasty shrimp and fish dishes are also available.
Drinks
The Hacienda offers great traditional margaritas made with your choice of tequila or Tino's own home made raicilla and fresh lime. The fresh strawberry and mango margaritas are not to be resisted. But there are also wonderful margaritas with authentic natural flavors that you probably have never tasted before:
arrayán, pasiflor
(passion fruit),
yaka
and a flavor called "guacamaya" which is a blend of avocado with fresh mint. Tino freezes these fruits during their seasons so that he can offer many of these flavors in margaritas throughout the year. He pays local children for hunting the wild fruit so that they will have money for school.
Raicilla
Predictably, Tino makes and serves his own raicilla, having begun maybe 30 years ago to learn how to grow his own agave cactus with help from his wife's family members who have cultivated agave near El Tuito for many generations.
Raicilla is a close cousin to tequila and mezcal, all of them being made from distinct varieties of the agave. Until about 15 years ago, raicilla was the "moonshine" of southwestern Jalisco - which is the only place where the required agave varieties grow.
Even today, raicilla still has a certain "cachet" as a once forbidden drink. The small growers who produce and distill this liquor have now begun calling for international appellation controls over the use of the word "raicilla," just as the word champagne can only be used for the beverage actually made in the champagne region of France.
But the political strength of raicilla growers is limited by the plant's own diminutive territory in the southwest of Jalisco. With worldwide tequila sales at more than 300 liters per year, only about 50,000 bottles of raicilla are produced annually. Pricing reflects that scarcity. A 750ml bottle of raicilla at Divisadero costs 500 pesos or about $35 USD.
But Tino's raicilla is no ordinary cactus juice. It is a two-time silver award winner at the yearly raicilla government sponsored competition. And in 2013, it was awarded the Gold Medal for the Distilled Spirit of the Year by SAGARPA, Mexico's Agricultural Secretariat.
Tino notes that there is "nothing artificial" about the production of his raicilla. It's effect? "Alegria, euforio" and some say it is even "afrodisiatico", says Tino. Tino says the impact of a shot of raicilla is more immediate than with other distilled spirits but that the next day, "you wake up happy."
Tino is content with the sublime tranquility of the El Tuito area - "
Este gran clima y la vegetacion tan bonita
." Although he chooses to live full time at the Hacienda, he feels that more Vallartenses will be coming to divide their years between Vallarta with its glorious winters and the El Tuito region with its cool summers and low humidity just an hour away from "the city."
After an intense, creative life in the restaurant business, Tino says "You have to enjoy your work and I have. It gave me a chance to meet people I would never have met any other way - artists, politicians, and impresarios."
It has been difficult work at times, and failure is always a risk. To be successful in the restaurant business, he says everything has to work together - "en conjunto - constancia, servicio, calidad y paciencia." And, of course, "amor y cariño."
To book tours to La Hacienda del Divisadero and to reserve a room at the Hacienda, call (322) 224-8390. There are three beautiful guest rooms at the Hacienda, impeccably clean and attractive in the almost austere style of a Mexican ranch house. The overnight rate for a couple is $1200 pesos, which includes a complete breakfast with the opportunity to taste some of the region's best cheese.
---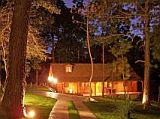 Set on 7 hectares of rolling hillsides, the Tierra Alta eco cabin development will comprise 21 country cabins built for weekend enjoyment or full-time living. The affordable cabins are built by third party contractors. If you would like to see what the Tierra Alta lifestyle offers you, please call
Tropicasa Realty's
Wayne Franklin at (322) 222-6505. To enjoy an out-of-the-ordinary Mexico vacation and breathe the fresh mountain air of El Tuito, call (322)222-9180 for rental information.
To learn more about Tierra Alta
Click HERE,
or visit
TierraAltaTuito.com.