Puerto Vallarta, Mexico - On Wednesday, May 6th, The Blond Gypsies come back to No Way José! for an evening of gypsy rumba and Flamenco guitar music with a Best-of-Vallarta 3-course meal, including a complimentary glass of wine.
For those of you who enjoyed Latcho & Andrea the first time they were in Tu Casa en Vallarta, you will remember what was one of our most special nights.
Come again and enjoy these European recording artists who perform Gypsy Rumba and Flamenco Guitar music. Both of German descent, Latcho and Andrea's music takes influences from around the world and back through time, authentically producing the mysterious and passionate sounds of Gypsy Flamenco music. They have recorded nine albums and a DVD chronicling their long musical career.
In 1996, Latcho & Andrea decided to leave Europe and relocate to Puerto Vallarta, Mexico. Since then, Latcho & Andrea's local popularity has soared and they have been consistently performing throughout Puerto Vallarta and other parts of Mexico, the U.S. and Europe.
We highly recommend advance ticket purchase for this show. This one-night-only performance will likely sell out quickly! 7:00 pm Dinner – 8:15 pm Show – $595 pesos, includes 3-course dinner + 1 glass of wine + show ticket.
Don't miss your chance to enjoy a Best-of-Vallarta dining experience and a romantic night in La Zona Romantica, click HERE to buy advance tickets online TODAY! You can also swing by No Way José! to buy tickets in advance to reserve your space.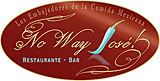 No Way José! is on the south side of downtown at 5 de Febrero 260, just over the Vallarta street bridge on your left heading south from the Malecón. Open daily from 4 pm to 11:00 pm, closed Mondays in April and May. Reservations are recommended and available by calling (322) 223-2853 or online at NoWayJoseMx.com. For more information, visit NoWayJoseMx.com, or join us on Facebook for real-time updates and special offers.

Click HERE to learn more about No Way José!