Puerto Vallarta, Mexico - Adding to the accolades of one of La Zona Romantica's favorite Mexican cuisine restaurants, No Way José! joins the roster of Best Gay Cities and Best Gay Travel Guide as the Best Food in Puerto Vallarta.
The Best Gay Cities are a network of 12 sites with over 200,000 monthly readers. Puerto Vallarta enjoys illustrious company on the network joining Chicago, New York, Palm Springs, Fort Lauderdale, Toronto and Las Vegas.
"Food always taste better when accompanied by great service, great atmosphere, and great people," shares Jose Alfredo Gonzalez. "Every member of the team - from the busboys to the bartenders from our back-office staff to the cleaning staff - works to contribute to our whole experience."
With the only table-side prepared Caesar Salad in La Zona Romantica and arguably one of the best chiles en nogada anywhere, the list of menu favorites includes a show-stopping dessert of Sexy Coffee like no where else in Puerto Vallarta.
Come and celebrate this accolade in Tu Casa en Vallarta. For the month of April, mention this award "No Way José! voted Best Food in Puerto Vallarta," and receive the house favorite Hot Chile Love Margarita or house dessert special with your dinner purchase.
"We cannot thank our family of friends enough," says owner, Julie Guerrero. "When we deliver on our promise - that you will leave happy and come back - it's a beautiful thing! Our Executive Chef this season, Mario Ibarra, has delivered consistently throughout the season. We could not be happier!"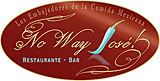 No Way José! is on the south side of downtown at 5 de Febrero 260, just over the Vallarta street bridge on your left heading south from the Malecón. Open daily from 4 pm to 11:00 pm, closed Mondays in April and May. Reservations are recommended and available by calling (322) 223-2853 or online at NoWayJoseMx.com. For more information, visit NoWayJoseMx.com, or join us on Facebook for real-time updates and special offers.

Click HERE to learn more about No Way José!