Puerto Vallarta, Mexico - There's great food and a vibrant atmosphere at Si Señor Beach Restaurant in Puerto Vallarta. They serve dishes with explosive, authentic Mexican flavors, and Vallarta Restaurant Week gives everyone a chance to sample this upscale Mexican cuisine at a very reasonable price through May 31st.
Si Señor Beach Executive Chef Victor Manuel Castaneda Romero has created plenty of interesting options for their special three-course Restaurant Week Menu, which offers choices for each course for just $199 pesos and is served from noon to 11 pm.
Here's the menu:
Appetizers
• Smoked Marlin Empanadas
• Tropical Fish Ceviche
• Poblano Cream Soup
Entrées
• Fish Filet with Tamarind Ginger Sauce
• Oaxaca Style Chicken Mole
• Seafood Linguini
Desserts
• Eggnog Flan
• Passion Fruit Mousse
• Banana Pudding
This exceptional food is served right on Puerto Vallarta's world-famous Los Muertos Beach. You can dine on the sand or in the relaxed atmosphere of the casually elegant beachside dining room. The dinner hour is famous for its fabulous sunsets (around 8:30 pm) and the colorful lights on the pier.
Si Señor Beach perfectly captures the essence of old world Mexico with a contemporary twist. They look forward to your next visit or hopefully after visiting during Restaurant Week, you will become a regular client.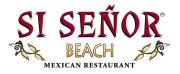 Open daily from 9:00 am to 11:00 pm, Si Señor Mexican Restaurant is located on Los Muertos Beach at Amapas 114, in front of the Hotel Emperador on the South side of Puerto Vallarta. For reservations, call (322) 222-0577, send an email to
SiSenorBeach(at)gmail.com,
or visit
SiSenorBeach.com
.
Click HERE to learn more about Si Señor Beach Restaurant.