Puerto Vallarta, Mexico - Vallarta Restaurant Week, which runs May 15th through the 31st, is a celebration of food at some of Puerto Vallarta's best eating establishments - for a fraction of the regular price.
The Blue Shrimp Restaurant is participating in this year's event, giving you the chance to sample some of their best dishes on a special three-course menu, with choices for each course, for just $299 pesos.
Executive Chef Jorge Abraham Gonzalez captures the spirit of bold seafood taste, creating exquisite dishes. Freshness and flavor are at the heart of every meal served.
Dive into his special Restaurant Week menu, with your choice from each of the following 'Shrimply Delicious' courses:
Starters
• Creamy Clam Chowder
• Salad Bar
• Sepia Style Calamari
Main Courses
• 1/2 Pound of Shrimp Your Way, choose from 11 Recipes
• Three Chili Fish Filet
• Chicken Breast Parmesan
Desserts
• Lemon Pie
• Chocolate Cake with Jalapeρo Sauce
• Corn Pie
Add to this impeccable service and an atmosphere that is as inviting as the food, and you've got a dining experience you'll come back for again and again. The Blue Shrimp's ideal blend of energy and intimacy has made it a favorite since 1999.
Whether it's cocktails in the lounge, dinner in the comfortable dining area under the palapa or a leisurely lunch on the beach, all with panoramic views of the Pacific, The Blue Shrimp is the perfect place to relax with family and friends.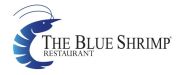 Open for breakfast, lunch, dinner or snacks and cocktails from 9 am until 11:30 pm, The Blue Shrimp is situated on Los Muertos Beach at Olas Altas 366 on the South side of Puerto Vallarta. For more information or reservations, call (322) 222-4246, email TheBlueShrimp12@hotmail.com or visit TheBlueShrimp.com. Click HERE to learn more about The Blue Shrimp